Like most games, Mount and Blade II: Bannerlord does have console commands, they're just a bit tricky to access! There is a way to unlock them in-game, it just requires a few simple steps. Console commands allow you to edit almost anything in-game from your character to the map to enemy armies. Here's a simple 2 step guide on how to get console commands in Bannerlord along with a list of every console command you can use. We will also include a list of the most useful ones so you don't have to scroll through the hundreds of different commands.
If you're looking for more Bannerlord content, check out our other guides!
Step 1. Activate Cheats in Bannerlord
This is fairly simple. All you need to do is turn a 0 into a 1 in a config file! Navigate to your Documents folder on your PC
Go into the folder titled Mount and Blade II Bannerlord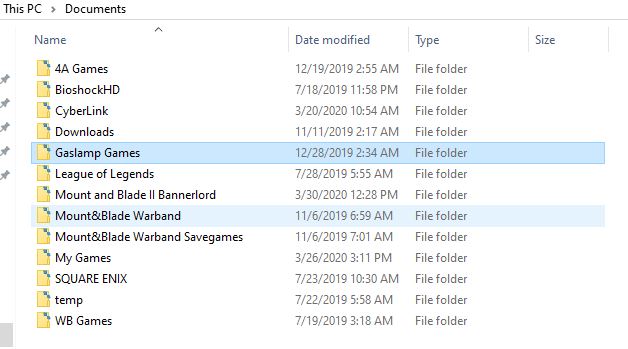 Next enter the folder called Configs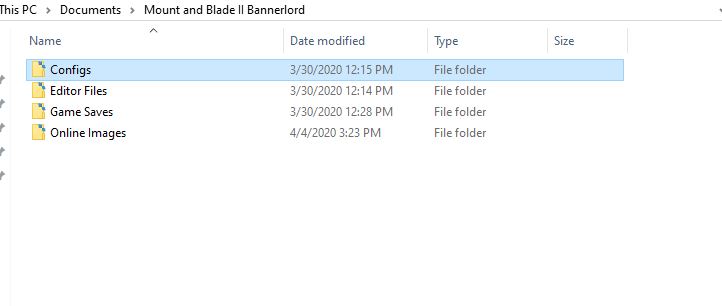 Inside that folder will be a file called 'engine_config.txt' Open it up with notepad

Using CTRL+F search for 'cheat_mode'. It should highlight it.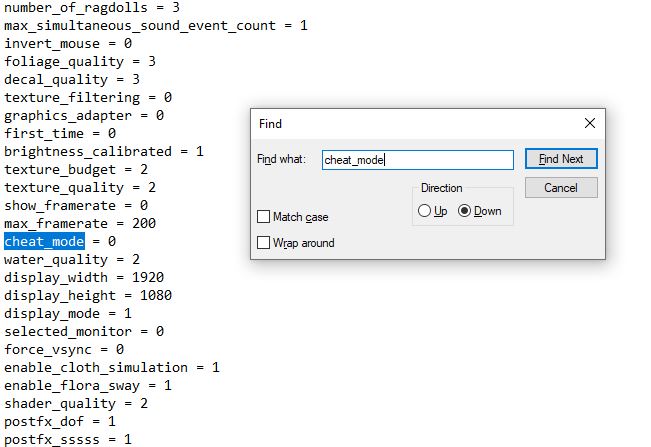 We need the 0 at the end of this line to be a 1. Simply delete the 0 and put a 1 in it's place. Now you've activated cheats, congratulations! If you want to turn off cheats after this guide, simply change the 1 back to a 0.
Step 2. Download the Developer Console Module
The developer console does not activate when you activate cheats, but you need cheats activated to use the console. With that being said, head on over to Nexusmods using this link and download the Developer Console mod.
It's super easy to install. There are instructions on that page as well, but all you have to do is download and extract the zip file to C:\Program Files (x86)\Steam\steamapps\common\Mount & Blade II Bannerlord\Modules. Once you've done that launch Bannerlord, but before you click 'Play' click the mods tab at the top below the Multiplayer tab and activate Developer Console.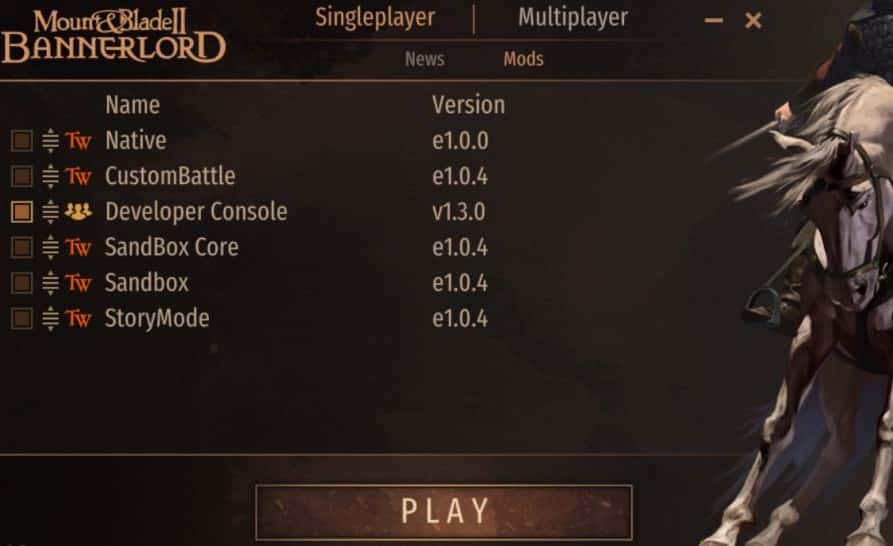 If you do not see Developer Console here you have extracted the zip to the wrong location or have not extracted it at all.
And that's it! Now you can load up your save in-game and by using the CTRL + ~ keys you will be able to open up the console and enter in commands. Here is a list of commands we find very useful and a short description of what they do. At the bottom of this article, or even on the Nexus Mod Page, is a list of all console commands available in Bannerlord. It also provides more information on how to use them properly so we highly suggest you check that page out as well.
Useful Console Commands
campaign.add_attribute_points_to_hero [#] campaign.add_focus_points_to_hero [#]
campaign.add_skill_xp_to_hero [#]
campaign.add_companion [Name]
campaign.add_gold_to_hero [#]
campaign.add_influence [#]
campaign.add_morale_to_party [#]
campaign.add_prisoner [Troop_ID] [#]
campaign.add_renown_to_clan [#]
All Console Commands
Log.Campaign.hide_log
Log.Campaign.show_log
Log.Campaign.show_unfiltered_logs
Log.Campaign.start_capturing
Log.Campaign.stop_capturing
Mission_Highlights.AddHighlight
Mission_Highlights.Initialize
Mission_Highlights.OpenGroup
Mission_Highlights.OpenSummary
Mission_Highlights.RemoveHighlight
Mission_Highlights.SaveVideo
agent.change_action_set
agent.delete_agent
agent.equip_clear
agent.fade_in
agent.fade_out
agent.goto
agent.main_agent_play_action_at_channel
agent.main_mount_play_action_at_channel
ai.debug_enable_cs
ai.driven_property
ai.formation_debug
ai.formation_speed_adjustment_enabled
ai.help_show_chars
ai.help_show_items
ai.help_spawn
ai.set_health
ai.set_health_help
ai.show_chars
ai.show_items
ai.spawn
atmosphere.current
atmosphere.list
atmosphere.reset
atmosphere.set_by_index
atmosphere.set_by_name
campaign.activate_all_policies_for_player_kingdom
campaign.add_attribute_points_to_hero
campaign.add_building_level
campaign.add_caravan_to_hero
campaign.add_companion
campaign.add_focus_points_to_hero
campaign.add_gold_to_all_heroes
campaign.add_gold_to_hero
campaign.add_horse
campaign.add_influence
campaign.add_morale_to_party
campaign.add_prisoner
campaign.add_progress_to_current_building
campaign.add_random_hero_to_party
campaign.add_random_prisoner_hero
campaign.add_renown_to_clan
campaign.add_sample_children_to_main_character
campaign.add_skill_xp_to_hero
campaign.adopt_hero
campaign.ai_attack_party
campaign.ai_defend_settlement
campaign.ai_goto_settlement
campaign.ai_raid_village
campaign.ai_siege_settlement
campaign.boost_cohesion_of_all_armies
campaign.boost_cohesion_of_army
campaign.burn_village
campaign.calculate_distance_from_main_party
campaign.call_faction_heroes_to_settlement
campaign.cancel_active_quest
campaign.change_clan_leader
campaign.change_current_building
campaign.change_faction_relation
campaign.change_hero_relation
campaign.change_main_hero_age
campaign.check_camp_locations
campaign.check_village_bandit
campaign.clear_settlement_defense
campaign.complete_active_quest
campaign.conceive_child
campaign.control_party_ai_by_cheats
campaign.create_faction_army
campaign.create_perk_main_hero
campaign.create_player_kingdom
campaign.declare_peace
campaign.declare_war
campaign.destroy_clan
campaign.destroy_kindgom
campaign.destroy_party
campaign.difficulty
campaign.election_chooser_cheat
campaign.election_supporter_cheat
campaign.enable_party_count
campaign.expel_clan_from_kindgom
campaign.fill_party
campaign.fill_party_alt_solution_test
campaign.fill_party_tableau_test
campaign.find_alley_owners_with_more_than_one_alley
campaign.find_hero
campaign.find_issue
campaign.find_mobile_party
campaign.find_settlement
campaign.free_player_through_barter
campaign.get_character_id_from_character_code
campaign.get_conversations_tags
campaign.get_criminal_ratings
campaign.get_game_progress
campaign.get_heroes_at_age
campaign.get_infested_hideout
campaign.get_invalid_family_members
campaign.get_lords_inside_settlement
campaign.get_main_party_position
campaign.get_settlement_common_area_states
campaign.get_stance_between_factions
campaign.give_all_crafting_materials_to_main_party
campaign.give_item_to_main_party
campaign.give_money_to_main_party
campaign.give_settlement_to_player
campaign.give_troops
campaign.give_troops_xp
campaign.give_workshop_to_player
campaign.give_xp_to_main_party
campaign.go_to_settlement
campaign.grow_player_babies_to_child
campaign.grow_player_children_to_teen
campaign.grow_player_teen_to_adult
campaign.heal_main_party
campaign.hide_hideouts
campaign.is_hero_suitable_for_marriage_with_player
campaign.join_kingdom
campaign.kill_capturer_party
campaign.kill_hero
campaign.lead_your_faction
campaign.leave_faction
campaign.leave_faction_by_rebellion
campaign.list_active_quests
campaign.list_all
campaign.list_children_heroes_suitable_for_marriage
campaign.list_heroes_suitable_for_marriage
campaign.list_heroes_without_party
campaign.list_home_settlement_of_player
campaign.list_player_traits
campaign.list_tournaments
campaign.list_trade_rumors
campaign.make_hero_fugitive
campaign.make_hero_wounded
campaign.make_main_hero_ill
campaign.make_peace_with_every_faction
campaign.marry_player_with_hero
campaign.move_camera_between_fights
campaign.move_camera_between_fights_automatically
campaign.move_time_forward
campaign.multiply_campaign_speed
campaign.normalize_hideouts
campaign.open_town_mission_spawn_at_workshop
campaign.print_all_issues
campaign.print_issue_statistics
campaign.print_issues
campaign.print_party_count_statistics
campaign.print_party_prisoners
campaign.print_player_progress
campaign.print_projects_in_settlement
campaign.print_settlement_goods
campaign.print_workshop_info
campaign.print_workshops_in_settlement
campaign.rebellion_enabled
campaign.refresh_icon
campaign.refresh_parties
campaign.remove_tracked_object
campaign.reset_player_skills_level_and_perks
campaign.reset_tracker
campaign.set_all_skills_main_hero
campaign.set_army_notifications
campaign.set_banner_editor_is_enabled
campaign.set_crafting_is_enabled
campaign.set_criminal_rating
campaign.set_desertion_enabled
campaign.set_face_gen_is_enabled
campaign.set_hero_age
campaign.set_intensity
campaign.set_kingdom_notifications
campaign.set_main_hero_age
campaign.set_main_hero_stats_to_mid_game
campaign.set_main_party_attackable
campaign.set_midgame_archetype
campaign.set_mood
campaign.set_parties_visible
campaign.set_player_reputation_trait
campaign.set_player_siege_as_sally_out
campaign.set_quest_debug_mode
campaign.set_skill_companion
campaign.set_skill_main_hero
campaign.set_skills_of_hero
campaign.set_town_test_scene
campaign.set_village_test_scene
campaign.show_character_feats
campaign.show_current_location_heroes
campaign.show_direction_of_player_around_settlement
campaign.show_direction_of_settlement_around_main_party
campaign.show_hideouts
campaign.show_party_morale_detail
campaign.show_party_size_limit_detail
campaign.show_possible_battle_scenes
campaign.show_prisoners
campaign.start_barter_with_hero
campaign.start_barter_with_lucon
campaign.start_conversation
campaign.start_election_to_change_policy
campaign.start_election_to_declare_war
campaign.start_election_to_make_peace
campaign.start_king_selection_decision
campaign.start_player_vs_world_truce
campaign.start_player_vs_world_war
campaign.start_rebellion_in_settlement
campaign.start_test_conversation_mission
campaign.start_tournament
campaign.start_world_war
campaign.take_hero_prisoner
campaign.teleport_hero_to_settlement
campaign.throw_prisoner_to_settlement
campaign.toggle_add_castles_to_villages_cheat
campaign.track_object
campaign.use_test_scenes
chatlog.can_focus_while_in_mission
chatlog.clear
close
cloth.reset_meshes
config.antialiasing_technique
config.brightness
config.brightness_calibrated
config.brightness_max
config.brightness_min
config.character_detail
config.cheat_mode
config.control_mouse_movement_accumulation_decay_speed
config.control_mouse_movement_max_accumulation
config.control_mouse_movement_y_scale
config.decal_quality
config.disable_sound
config.display_height
config.display_mode
config.display_referesh_rate
config.display_width
config.dynamic_resolution_fps_target
config.enable_cloth_simulation
config.enable_dynamic_resolution_scale
config.enable_flora_sway
config.environment_detail
config.first_time
config.foliage_quality
config.force_vsync
config.gamma
config.graphics_adapter
config.invert_mouse
config.lighting_quality
config.master_volume
config.max_framerate
config.max_simultaneous_sound_event_count
config.mouse_sensitivity_coefficient
config.music_volume
config.number_of_ragdolls
config.particle_detail
config.particle_quality
config.postfx_bloom
config.postfx_chromatic_aberration
config.postfx_dof
config.postfx_grain
config.postfx_hexagon_vignette
config.postfx_lens_flares
config.postfx_motion_blur
config.postfx_ssr
config.postfx_sssss
config.postfx_streaks
config.postfx_sunshafts
config.postfx_vignette
config.resolution_scale
config.safely_exited
config.save_window_positions
config.selected_monitor
config.shader_quality
config.shadowmap_filtering
config.shadowmap_resolution
config.shadowmap_type
config.sharpen_amount
config.show_framerate
config.sound_device
config.sound_output
config.sound_volume
config.terrain_quality
config.tesselation
config.texture_budget
config.texture_filtering
config.texture_quality
config.water_quality
config.weapon_trail_amount
console.clear
crafting.disable_contour
crafting.dismantle_all
crafting.give_random_weapons
crafting.list_mats
crafting.unlock_all_parts
debug.clear_permanent_debug_render_meshes
debug.mission_spawnpoint_count_and_mesh_checker_ui
debug.print_materials_with_name
debug.print_meshes_with_name
debug.print_meta_meshes_without_lods
debug.print_textures_with_name
debug.reset_ignored_asserts
eventmanager.print_registered_events_and_types
facegen.dress_player
facegen.referesh_character_as_kid
facegen.show_debug
facegen.undress_player
game.reload_animations
game.reload_managed_core_params
game.reload_native_params
game.siege_test
gfx.set_quality
global.illumination
granite.clear_cache
granite.generate_xml
granite.pause
help
items.export_nav_mesh_face_marks
items.find_and_clear_unused_resources
items.find_meshes_without_lods
items.print_all_items_with_generated_lod
items.print_all_items_without_generated_lod
items.print_all_items_without_lod
items.print_faulty_materials
items.take_ss_from_top
localization.check_for_erros
memory.stats
mission.AddDebugTeleporter
mission.AddObjectDestroyer
mission.begin_camera_fade_in
mission.begin_camera_fade_out
mission.begin_camera_fade_out_and_in
mission.disable_fall_avoid
mission.draw_formation_arrangement_debug_lines
mission.draw_formation_order_debug_spheres
mission.draw_point_of_interest_directions
mission.draw_siege_origin_positions
mission.enable_debug_window
mission.enable_fall_damage_warnings
mission.equipment_debug
mission.fix_camera_toggle
mission.flee_enemies
mission.killAgent
mission.list_agent_ids
mission.retreat_side
mission.set_battering_ram_speed
mission.set_camera_position
mission.set_deployment_visualization_selector
mission.set_facial_anim_to_agent
mission.set_shift_camera_speed
mission.set_siege_tower_speed
mission.toggleDisableDying
mission_cpp.fast_forward_mission
mission_cpp.kill_agent
mission_cpp.kill_all_agents_excluding_this
mp_client.list_agent_infos
mp_host.help
mp_host.kick_player
profiler.generate_performance_report
profiler.start_task_profilinf
replay.invisible_agents
replay.read_current_replay
replay.seek_frame
replay.tick_replay
replay.write_current_replay
resource.add_default_levels_to_prefab_file
resource.add_new_water_prefab
resource.clear_gpu_morph_textures
resource.export_meta_mesh_as_obj
resource.save_prefab_files
resource.set_visibility_distance_to_meshes_without_lods
resource.shader.clear_shader_cache
resource.shader.compile_shader_combinations
resource.shader.compile_terrain_shaders
resource.shader.compile_terrain_shaders_of_scene
resource.shader.create_compressed_shader_cache
resource.shader.generate_shaders
resource.shader.recompile_single_shader
resource.shader.save_shader_combinations
resource.shader.save_shader_identifiers
rgl_module_ini_options.always_check_modifications
rgl_module_ini_options.check_colormap_flags
rgl_module_ini_options.detailed_sound_log
rgl_module_ini_options.disable_async_physics
rgl_module_ini_options.disable_async_predraw
rgl_module_ini_options.disable_async_render_jobs
rgl_module_ini_options.disable_camera_precision_offset
rgl_module_ini_options.disable_data_parallelization
rgl_module_ini_options.disable_dynamic_instancing
rgl_module_ini_options.disable_gui_messages
rgl_module_ini_options.disable_oros
rgl_module_ini_options.disable_shadow_occlusion_pass
rgl_module_ini_options.disable_tableau_cache
rgl_module_ini_options.do_sound_one_shot_events
rgl_module_ini_options.enable_deterministic_mode
rgl_module_ini_options.enable_occluder_depth_prepass
rgl_module_ini_options.high_quality_screenshot_height
rgl_module_ini_options.high_quality_screenshot_width
rgl_module_ini_options.limited_framerate
rgl_module_ini_options.log_failed_weapon_collision_sound_events
rgl_module_ini_options.log_level
rgl_module_ini_options.prt_edit_data_folder
rgl_module_ini_options.record_missions
rgl_module_ini_options.screenshot_format
rgl_module_ini_options.screenshot_mod
rgl_module_ini_options.show_scene_terrain_layer_errors
rgl_module_ini_options.supports_postfx_chromatic_aberration
rgl_module_ini_options.supports_postfx_hexagon_vignette
rgl_module_ini_options.supports_postfx_lens_flares
rgl_module_ini_options.supports_postfx_streaks
rgl_module_ini_options.supports_postfx_vignette
rgl_module_ini_options.use_depth_flipping
rgl_module_ini_options.use_physics_engine
rgl_module_ini_options.use_texture_tags
show_memory
siege_test.set_level
siege_test.set_scene
siege_test.set_wallhp
sound.enable_wav_output
sound.reload_sounds
spitems.reload.xml
storymode.activate_conspiracy_quest
storymode.advance_to_kingdom_quests
storymode.complete_banner_investigation
storymode.destroy_all_anti_imperial_kingdoms_except_player_kingdom
storymode.reinforfce_kingdom
storymode.skip_character_creation
storymode.skip_first_phase
storymode.skip_intro
storymode.skip_tutorial_quests
storymode.weaken_kingdom
test_mission.change_faction_armor_color
ui.test_random_admin_message
ui.toggle_ui