Today, the Call of Duty 80s Action Heroes limited-time event for Warzone and Black Ops Cold War begins. This is part of Season Three Reloaded, and should serve to bring more players back into the fold. The content that's going to be present is insane, there's so much to cover. The best though are the new skins that you'll be able to access. If you haven't already guessed, they're themed around 80s movie stars. This is part of a tonne of new content that's coming to the game, and it's just the beginning. In this guide, we'll dive into the roadmap for this event and explain everything that you can get your hands on.
For Call of Duty: Warzone, the patch for this update will be 14.6 GB on PS4 and PS5. For players on Call of Duty: Black Ops Cold War, it'll be 10.3 GB on PS5, and 7.1 GB on PS4.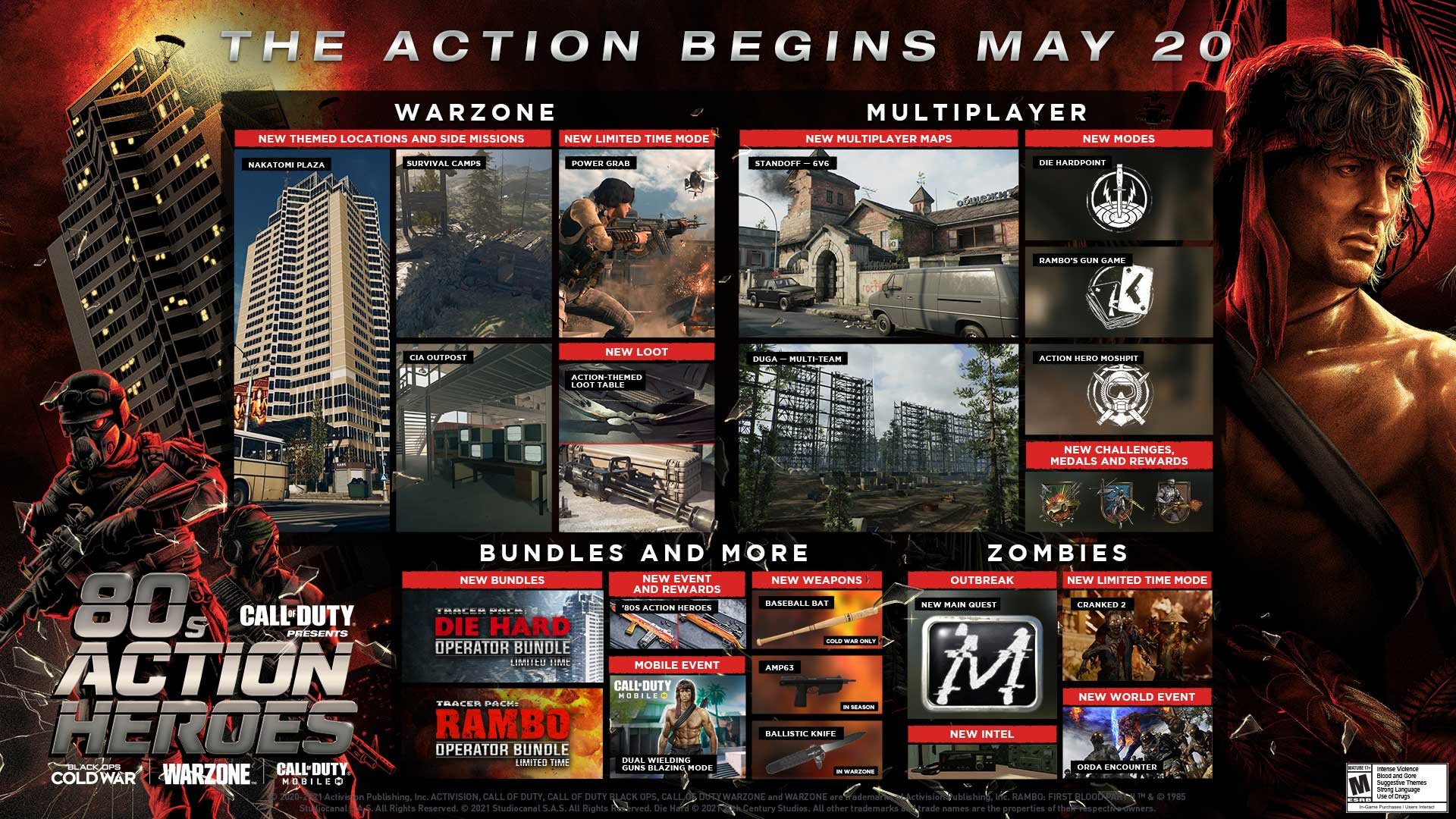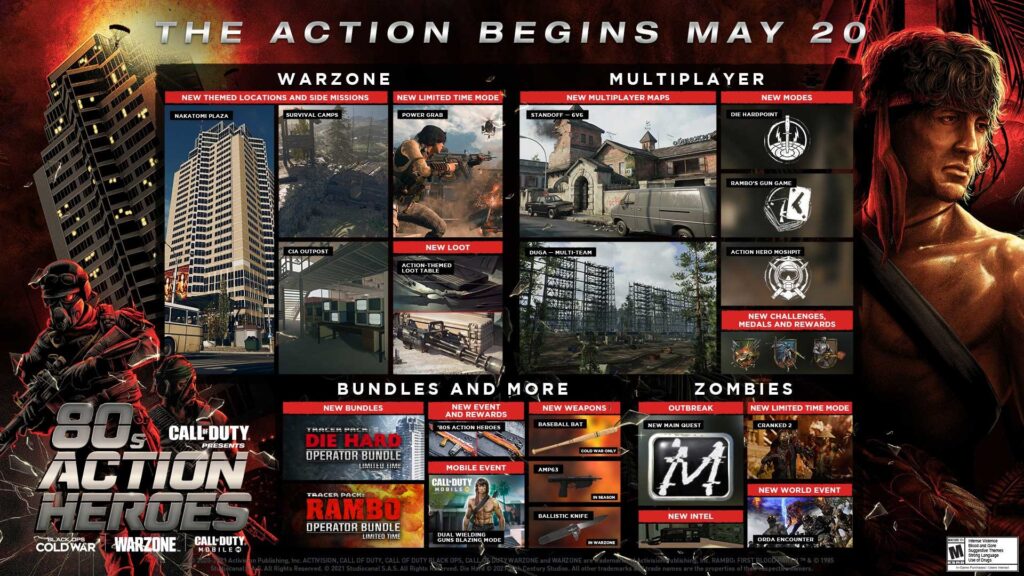 Call of Duty 80s Action Heroes Guide
There are four main categories for the content you can play and get in this event. We'll split it up below so that it's easier for you to understand.
Warzone
During the event's duration, players in Call of Duty: Warzone can take advantage of new themed locations and side missions. The new themed locations include a CIA Outpost, Nakatomi Plaza, and Survival Camps. There's going to be a new limited-time game mode called Power Grab in play. Our best guess with this is that it'll be a mode in which you pick up powerups to enhance your characters. This might even transform you into one of the movie stars from Die Hard or Rambo. Finally, there will also be a lot of new loot to collect during this event. All the new loot is themed around the same movies the characters are from, so expect a minigun and maybe some callbacks to other movies too.
As for the side missions, little is known about them. It's likely that they'll be kill requirements themed around things from these movies, such as getting headshots, spinning before a kill, or using a specific weapon to get kills. We'll have to wait until we're in the game to know for sure. These will almost certainly unlock permanent rewards for all players. If you complete them in time then you can take the rewards into the main game from this point onwards, and always look like a movie star.
Black Ops Cold War
The core multiplayer element of Call of Duty: Black Ops Cold War will also be getting some new features for this event. These are exclusive to this mode, so Warzone players won't be able to access them unless they have a copy of the game.
Two new multiplayer maps are being added into the mix. These are Standoff, a 6v6 map, and Duga, a multi-team map. Each one looks to offer something slightly different for the event. The best thing about them is probably that they'll play into the movies that are part of this event. Expect to see a lot of easter eggs linking the Call of Duty games to these movies in these maps.
Three new game modes are also being added. These are Die Hardpoint, Rambo's Gun Game, and Action Hero Moshpit. It's pretty clear what these will be. Die Hardpoint will be a Die Hard themed version of Hardpoint matches. Nothing more. Rambo's Gun Game will be a new version of the standard Gun Game mode, but after each kill you'll get a new Rambo themed weapon. Finally, the Action Hero Moshpit will probably play into the powerups being added ot the game. Players will only appear as the action hero characters, and they'll have special abilities to tie in with that to use in the match. This will be something crazy and completely unbalanced, but fun.
Lastly, there are new challenges and medals for rewards coming to the multiplayer mode. These will task you will performing different actions in the game, but overall they won't add too much to it. All you'll need to do is keep an eye on the tasks and perform them as and when you can.
Zombies
In the Zombies game mode, there are a lot more things going on. First, Outbreak mode is getting a new main quest. We have no idea what this will be, but it'll add a new reason to return to the mode and beat it again. There's also some new Intel to gather in Zombies mode, so it's generally worth playing if you want to make the most of it and gather all the lore there is.
A new time-limited mode called Cranked 2 will be available. We don't know what this is, but it probably revolves around the movie. In that movie, the protagonist had to keep charging themselves with electricity to stay alive. It's likely that players will need to do the same by taking damage from electrified enemies, or running into electrical objects within the game mode.
Finally, there's going to be a new World Event called Orda Encounter. This seems like it will be a special enemy that drops onto the map. You'll have to take it on and kill it as best you can. WE have no advice for this apart from to do your best.
Bundles and Stuff
This last section is everything else that we can see is coming to the game with this event. There are a few new bundles to buy if you're so inclined, including the Die Hard Operator Bundle and the Rambo Operator Bundle. The event itself has some more rewards to pick up. These are quite general though, so you'll get them organically as you play and complete the daily challenges and things like that. Three new weapons, the Baseball Bat, AMP63, and Ballistic Knife are all coming to the event, and lastly, there's a Dual Wielding Guns Blazing mode coming to Call of Duty Mobile. This final event is specifically for mobile users and won't affect the main game for players trying out the Call of Duty 80s Action Heroes event.