Bungie has finally dropped the Destiny 2 Season of the Splicer roadmap. This covers almost everything that's coming in the new season. In terms of content, this is what players have been searching for over the past few weeks. Knowing what's coming in this game is always a highlight in the year. Players can't wait to get to their content, so they need to stare at the roadmap and hope that it somehow drops early. In this guide, we'll be looking at the roadmap and dissecting all of the content within.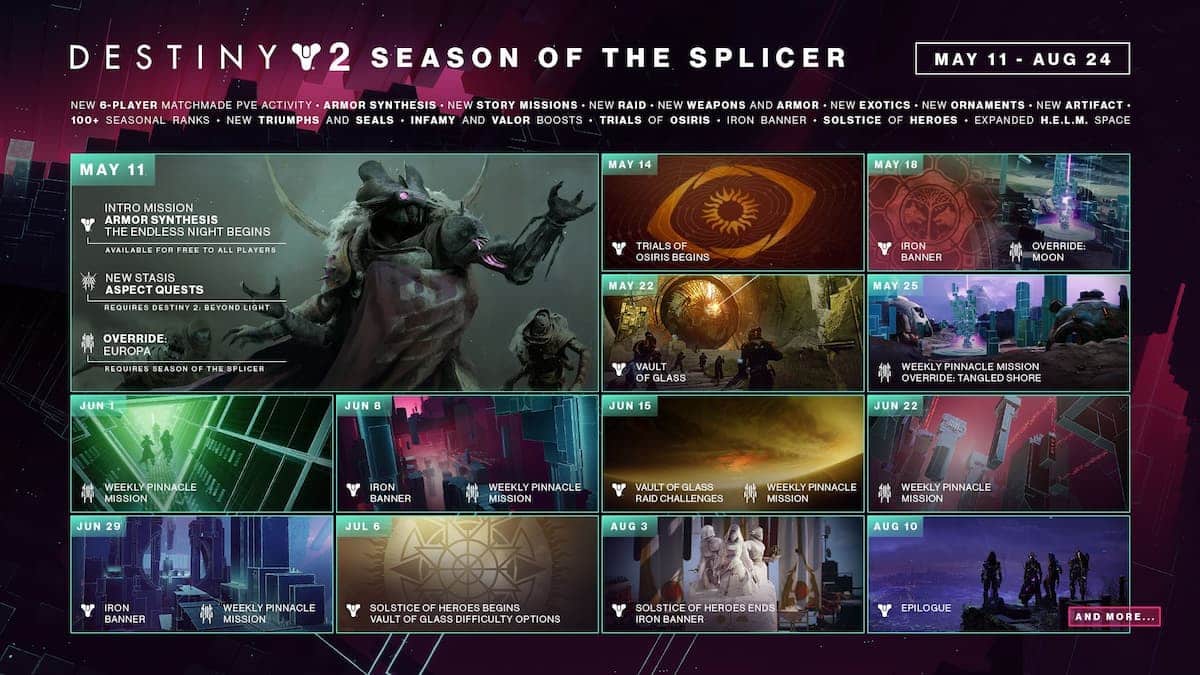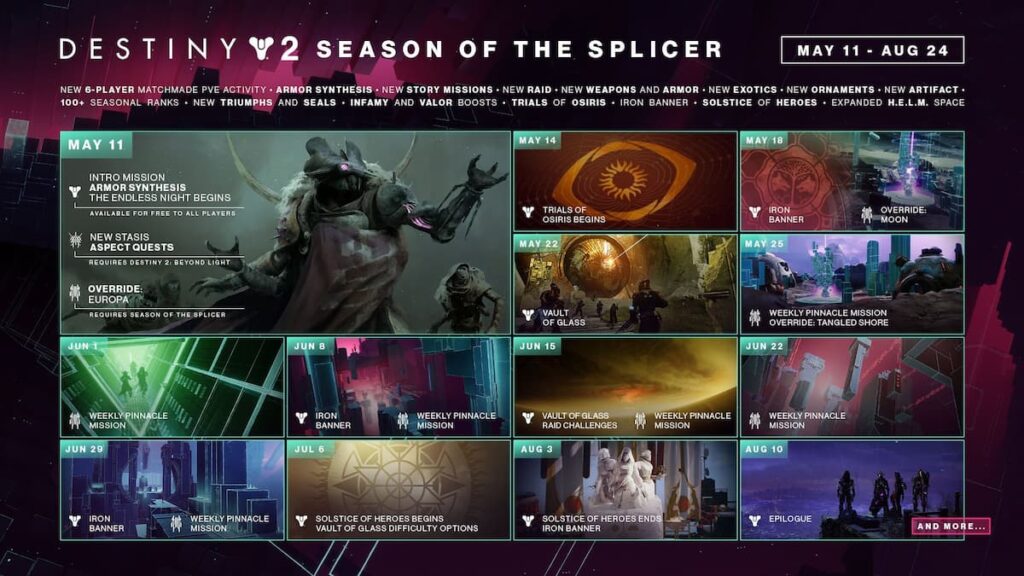 Launch Day – May 11
Season of the Splicer launches on May 11. On that day, a lot of new content is going to drop in the game. There will be a brand new introductory mission to the season. This will guide players through the new content, and get them on the road to the new Seasonal Artifact. In addition, Armor Synthesis, which is transmog, will go live, and The Endless Night will begin. This is a story element that sees Earth plunged into darkness thanks to a Vex simulation. It's not clear how this works just yet, but all will be revealed on the day.
There's also a new Stasis aspect going live on May 11. This will expand the new subclass for all classes and players. It's designed to help you expand your arsenal and mix up the base gameplay a little. We'll have to see how that goes in practice.
The final piece of content going live on this day is the new Seasonal Activity, Override. It will launch today on Europa, and six players can matchmake into the activity whenever they want. You'll probably have to follow the introductory missions to unlock it, and after that, playing through the activity will likely enhance your standing for the season.
Trials of Osiris – May 14
We're not sure why, but Trials of Osiris is set to begin on this day. This will probably be a revamped version for the Season of the Splicer, but you can play the game mode now.
Iron Banner and Override Moon – May 18
The first Iron Banner event goes live, and a new Override location comes to the game as well. This will be a new area in which the Seasonal Activity can take place. This is what most players will be concerned about. It's all about chasing the best gear for the current season, and this is where you'll find a lot of it.
Vault of Glass – May 22
The Destiny 2 version of Vault of Glass goes live! This is a returning raid from Destiny 1, and one that many players are eager to get their hands on. It will bring some twists and changes to the raid's formula, and make for some extremely exciting content.
Weekly Pinnacle Mission and Override Tangled Shore – May 25
A new weekly pinnacle mission will come to the game on this date, but so too will a new Override location. The Tangled Shore is quite a good location, and it's in need of some new content like this. It'll make the season more entertaining with so much more going on in various locations.
Weekly Pinnacle Mission – June 1
The first in a series of weekly pinnacle missions goes live on June 1. This is a new activity that is meant to bring a new peak activity for PvE fans to the table. It'll refresh each week, and you can earn new and better loot every time you play it. However, it's likely that there will be a limit of one piece of powerful gear per week. Otherwise, Bungie is handing out the power levels like they're nothing.
Iron Banner and Weekly Pinnacle Mission – June 8
On June 8, the second Iron Banner event for the season goes live. This is a harder PvP activity in which power level and equipment are taken into account. The higher the level of your equipment and Guardian, the more damage you'll do. This is also the first chance players will get to use their peak equipment with Ornaments on. You can disguise it and make it look like you're wearing early-game armor, when in fact you're wearing endgame armor.
In addition to Iron Banner, a new weekly pinnacle mission will come into the rotation. This will expand the roster of weekly pinnacle missions to take on. It's also likely that this will advance the season's story. If that matters to you, then this is the content you need to play.
Vault of Glass Raid Challenges – June 15
This date will see raid challenges finally come to Vault of Glass. These are additional challenges on top of the standard raid, and will make it much more interesting. These are generally what those who play this game every day will look to complete as soon as they go live. That's going to be tough in such a difficult raid though.
Weekly Pinnacle Mission – June 22
On this date, a new weekly pinnacle mission will drop. It's going to extend the base season gameplay by a little bit, but it wont' add too much in terms of content.
More Iron Banner and Weekly Pinnacle Mission – June 29
On this date, the same content as the above in this Destiny 2 Season of the Splicer roadmap will come to the game. Iron Banner only lasts a week, so this will be the second for the season. Another new weekly pinnacle mission means yet more story, and more chances to unlock powerful gear.
Solstice of Heroes – July 6
Just over halfway through 2021 we'll be getting the Solstice of Heroes. This is an event that sees players celebrate the year that's just past. There will be a lot to do in this, including upgrading an entirely new set of armor. Those who upgrade it to the maximum level will probably be able to take it through the rest of the year at max power level. This was the reward for last year, so we should expect it this year.
Something else that also happens on this day is the reveal of difficulty options for Vault of Glass. This is something that those who enjoy raids the most will be concerned about. It's the thing that will help players get the best gear possible, at least in terms of raids.
Solstice of Heroes Ends and Iron Banner – August 3
On this date, Solstice of Heroes is going to finish. This is the end for players who want to grab everything for the event this season. On top of that, a new Iron Banner will begin. All of this should make for a pretty packed week regardless of whether you prefer PvP or PvE.
Epilogue – August 10
This will probably be an end to the current story arc in Destiny 2. It may even be the end of the base Destiny 2 story. Bungie has said before that the next expansion is a new story arc, so this could see everything that's currently going on come to a close. We won't know for sure until we get to the day though.