Chevre is a lovely white normal goat Villager in Animal Crossing: New Horizons. She's one of the coziest characters in the game, and one that you should probably be chasing to have on your island if you get the chance. The thing is, she's got everything going for her. She's nice, she looks good, and she's a joy to be around. You couldn't ask for much more in a Villager. In this Animal Crossing: New Horizons Chevre Villager Guide, we'll cover everything there is to know about this Villager. We'll also throw in some facts that you probably didn't know about her just for good measure.
Who is Chevre?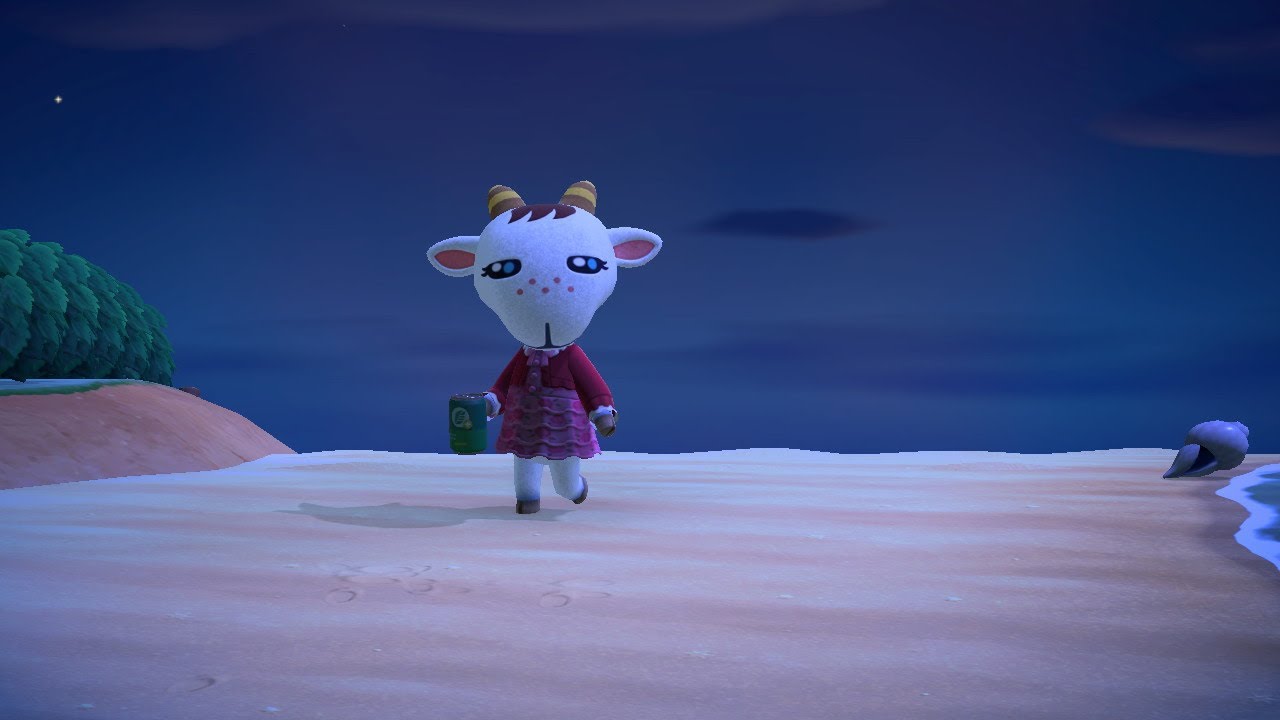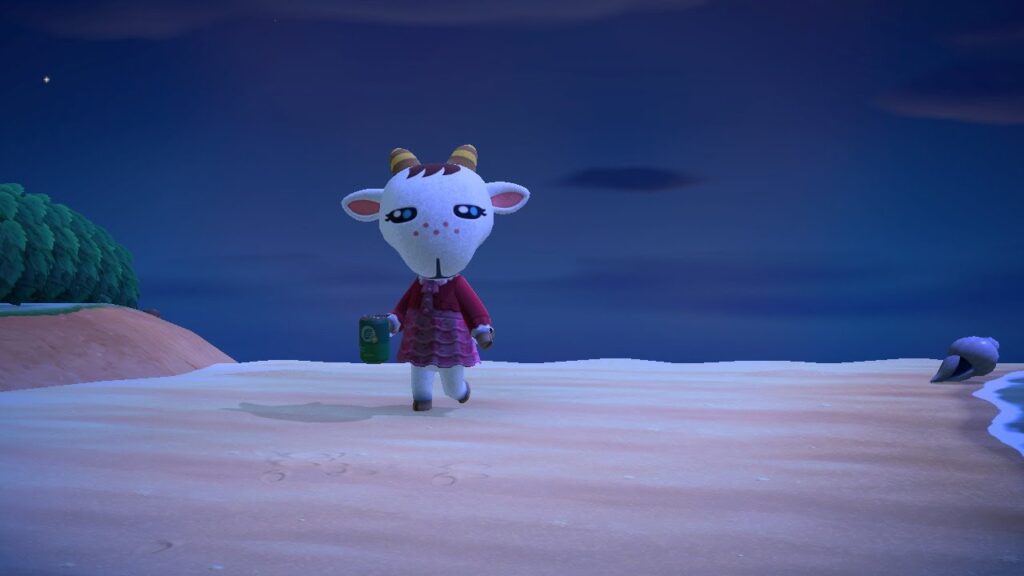 As we've mentioned, Chevre is a normal goat Villager. She's actually appeared in every Animal Crossing game to date, which is a really impressive stint in such a long-running franchise. Her name is French and matches her initial quote, "la baa," which is a play on how some French people are portrayed in TV and film. It's also a play on a phrase which means "over there."
In Japanese, her name is the same as the word that means goat's cheese. Her actual Japanese name is Yuki though. It's a common enough name, and the thing that makes it relevant is that it can mean snow. This is obviously a reference to the snow-white fur that Chevre has all over her. She's such a cute-looking Villager that it's hard to imagine anyone turning her away. Most players want to keep her, and we think that's the right course of action.
Birthday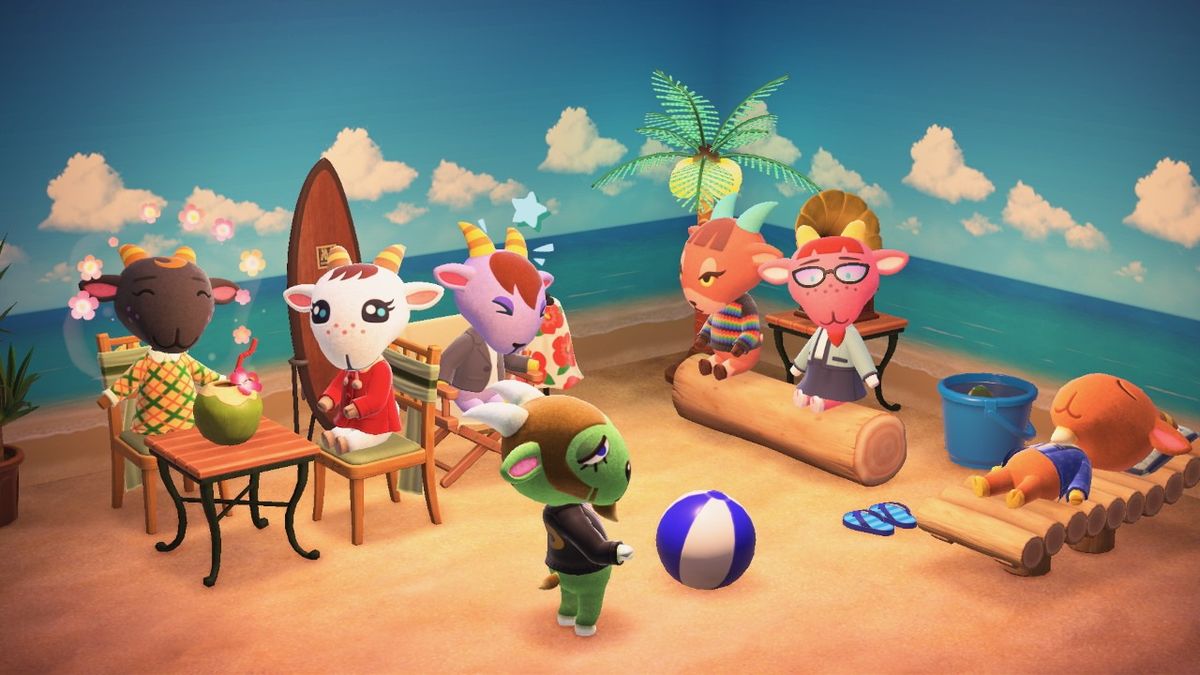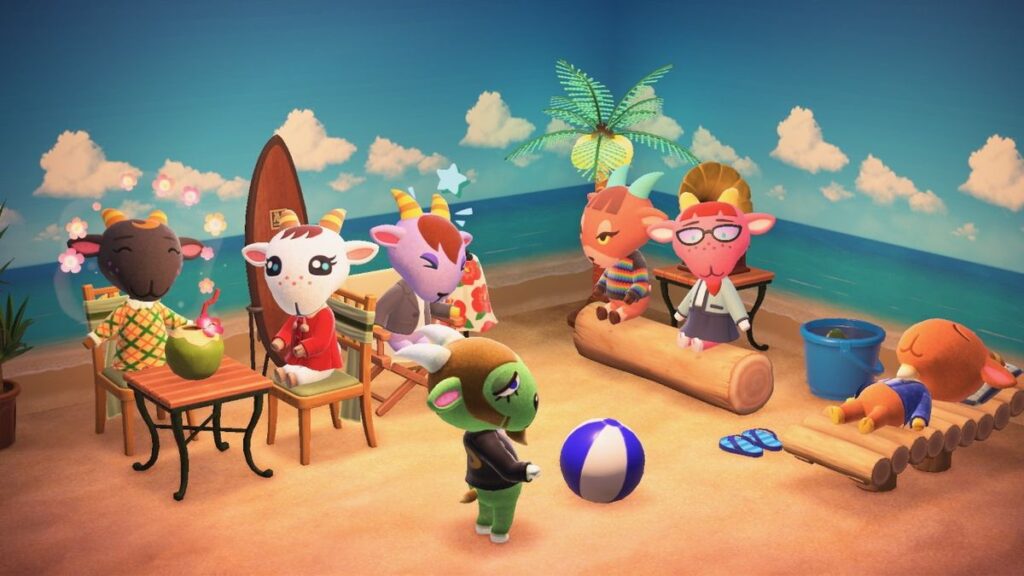 Chevre's birthday is March 6. On this date, you really need to pay attention to her. She'll be hanging out in her house all day, waiting for other Villagers, and you, to pop by. If you do, you'll get to celebrate with everyone else that's there. This means you'll also take part in some games, smashing a few things around, and can even get some cake out of it. This is a powerful item that will allow you to do some very quick building later on in the game whilst working on your island. Save it for when you really need it, because it's a super important item to have on you.
Of course, the real benefit to Chevre's birthday, and one of the most useful tips in this Animal Crossing: New Horizons Chevre Villager Guide, is that you'll be able to advance your relationship with her on this day. You achieve this just by appearing on her birthday and taking part. If you give her a gift, things will go even better. You'll push that relationship even further with something as small as a present. On top of pushing the relationship forward, you'll also be able to get a present in return, since most Villagers will give you a present after you give them one.
Chevre's Personality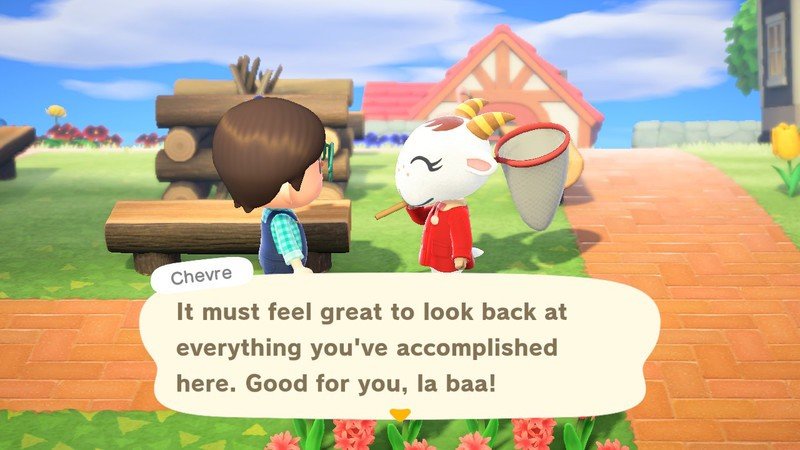 Chevre has the normal personality, one of the best in the game. It makes her incredibly kind, and she'll spread that kindness to all players who have her on their island. It's just a small part of what makes her so good to have around, and you really don't notice how good she is until you have her. She'll even get on well with other Villagers, which is really saying something. Chevre will like peppy, lazy, snooty, smug, and normal Villagers. However, she's not going to get on well with cranky or sisterly Villagers. For whatever reason, they find her suspicious and won't get on with her incredibly lovely attitude.
One of the best things about Chevre is that she'll be up at 6AM every day. This means that you can walk around your island completing tasks with a Village by your side, no matter how early you're up. This is why we love her, because there's no better time to play the game than right before you start your day. Having this Villager by your side makes all the difference. If you don't believe us, try experiencing a few early mornings with her. We promise that you won't regret it.
Chevre's Appearance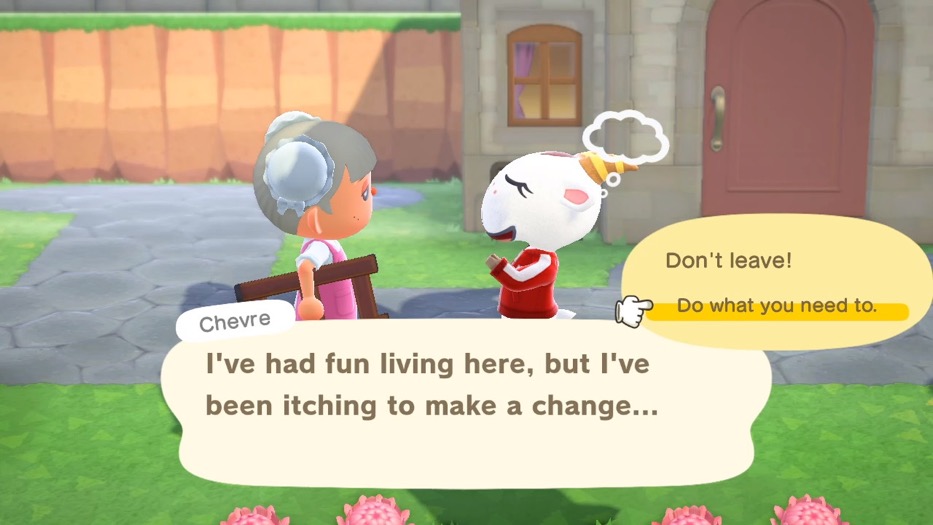 It can't have escaped you by this point that Chevre is a white goat Villager. She looks so incredibly unique that she may as well be based on some food. She's akin to that sort of Villager type, but her look is entirely personal and isn't really based on anything else. She's got huge blue eyes and quite a prominent mouth. However, with her normal personality, these don't get used to an extreme degree, so she never looks too out of place as some other Villagers do when their expressions get over the top.
Her horns are striped, and she most commonly wears a red cardigan. She's also got a slightly reddish-brown tuft of hair in the middle of her forehead. It's just a hint of hair, but it's enough to make her look like more of a person than an animal. You may never notice it though if you're not paying attention. As far as appearances go, Chevre is one of the most understated Villagers in the game. She wears simple clothes and doesn't have one thing that makes her pop, but that's what makes her pop. She's so cool.
Chevre's House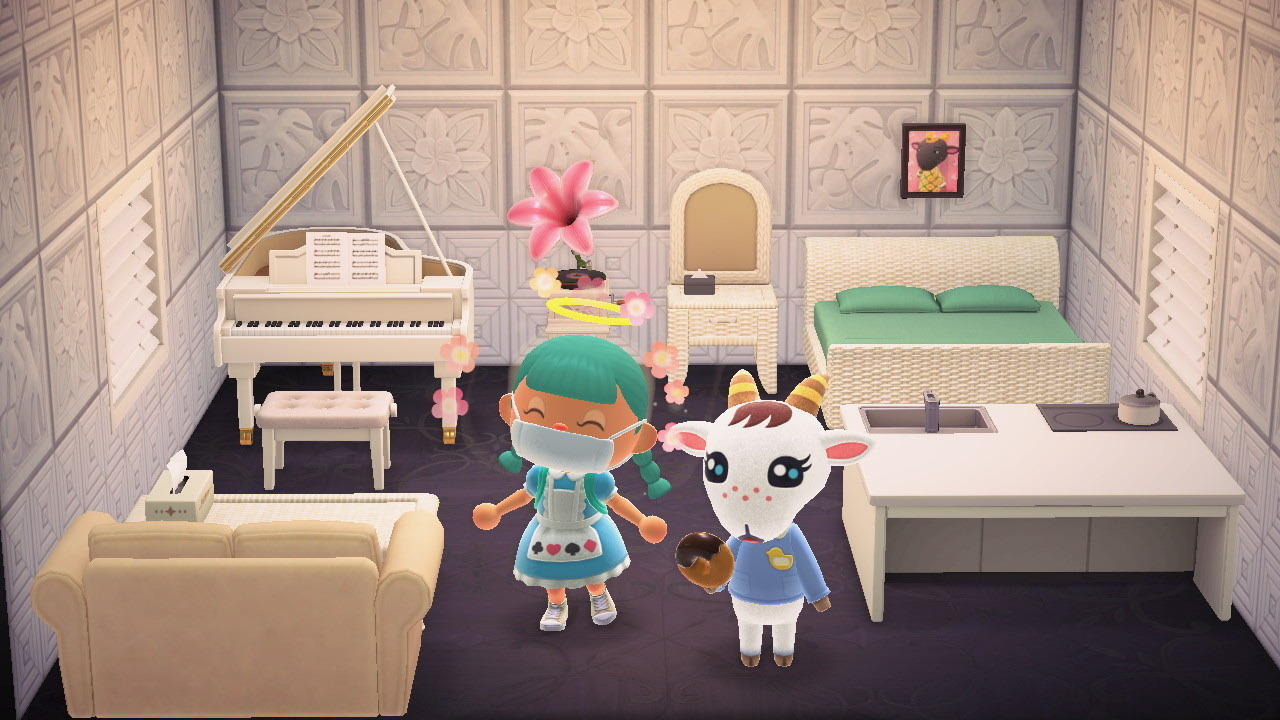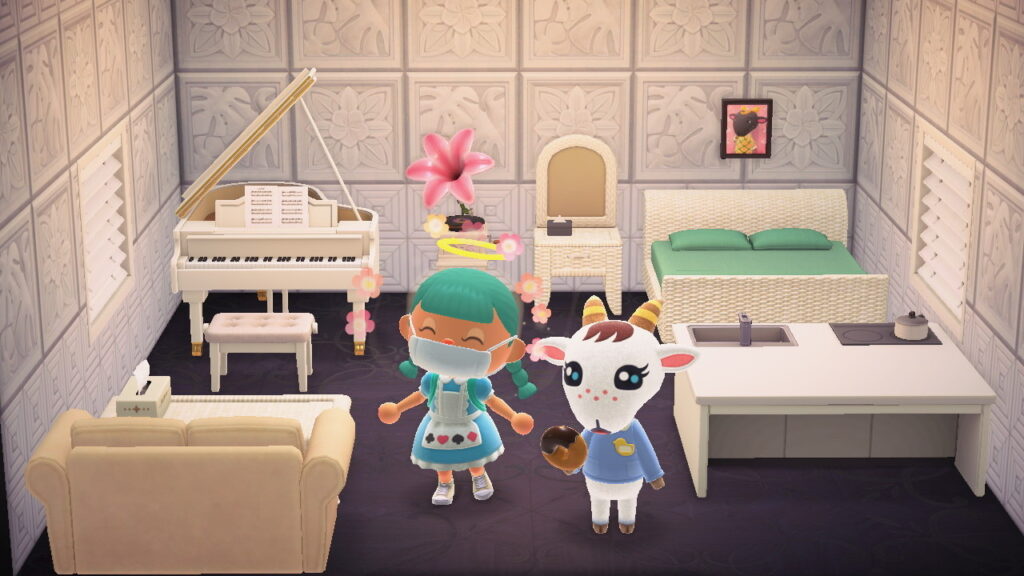 The exterior of Chevre's house is as understated as she is. It's just a plain stone color, nothing else going on. It has a circular roof that will make it fit in anywhere, but particularly in the middle of some woods on your island. It's an extremely easy-to-hide building. There's just no need to bother doing much with it. Place it down and ignore it. Chevre will do the rest, and that's all you really want from it at the end of the day.
The interior of Chevre's house is very white. The flooring is dark, but the walls are all tiled in white. She has white furniture everywhere too, from the piano to the bed. It's like she has one color that she likes, and it's white. In a way though, it's nice to have a Village home that feels distinct without being themed around a season. It would have been so easy for the developers to make this a Christmas-themed house, and yet here we don't have anything close to that. Yet it's still very white.
Facts About Chevre
Interestingly, another Villager, Nan, has Chevre's picture on her wall, and Chevre has Nan's. This is said to be a reference to a song in Japan about a black goat and a white goat, given that Nan is black. Additionally, Chevre shares her birthday with Chai, another Villager, so make sure you pay attention to them both if they're both on your island at once.