Season of Sloth is well upon us now in Hitman 3. This is the third DLC season to be added to the game since the launch of the Seasons of Sin. Everything this season is some sort of interpretation on the theme of sloth, being lazy, or just not caring at all. In this Hitman 3 Season of Sloth roadmap guide, we'll cover everything that's coming to the game over the course of this season. It lasts from June 15 to July 19, and packs in slightly less content than you might be used to as a Hitman 3 fans. Be aware that you won't be completely satisfied with this season's offerings.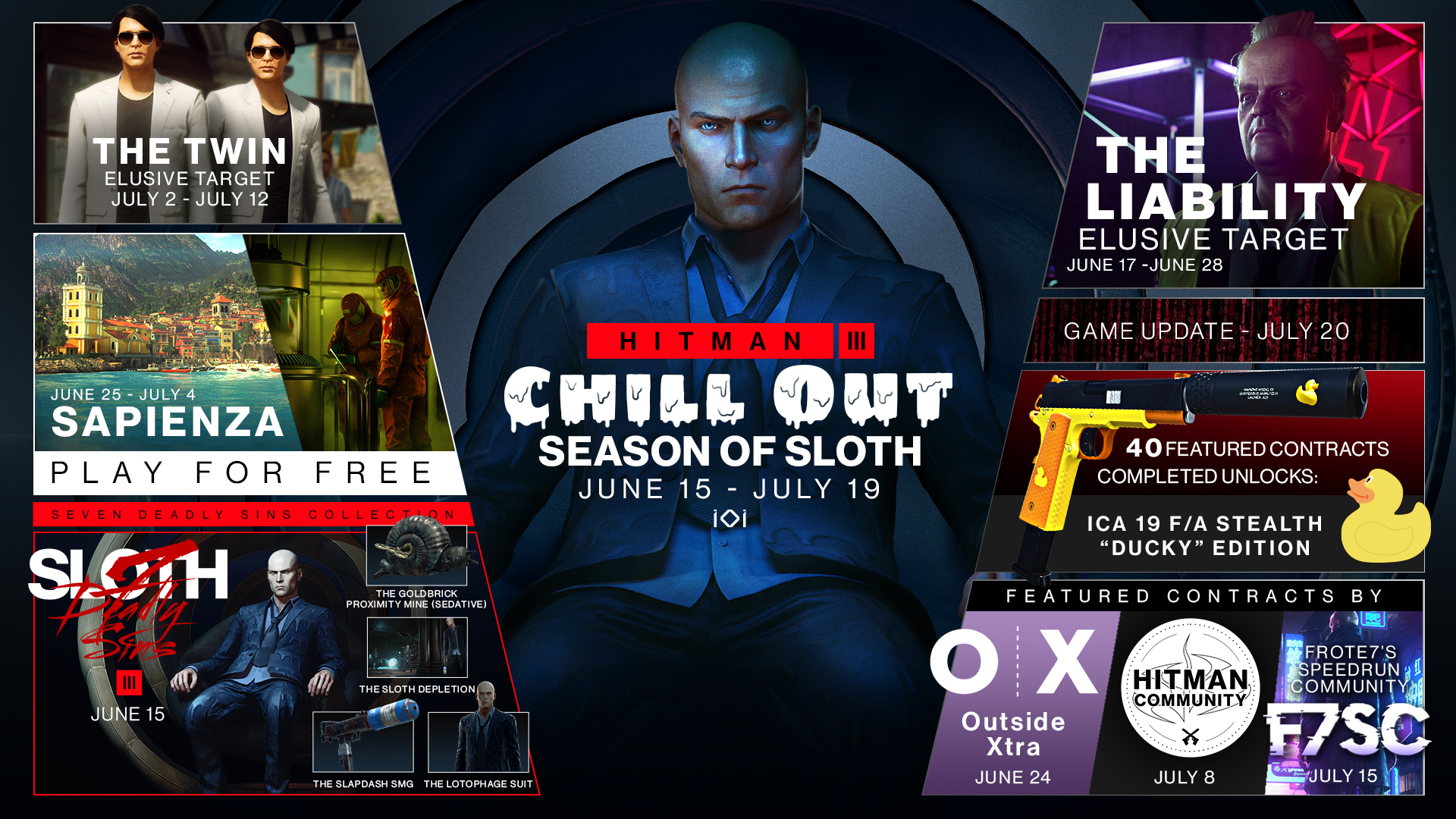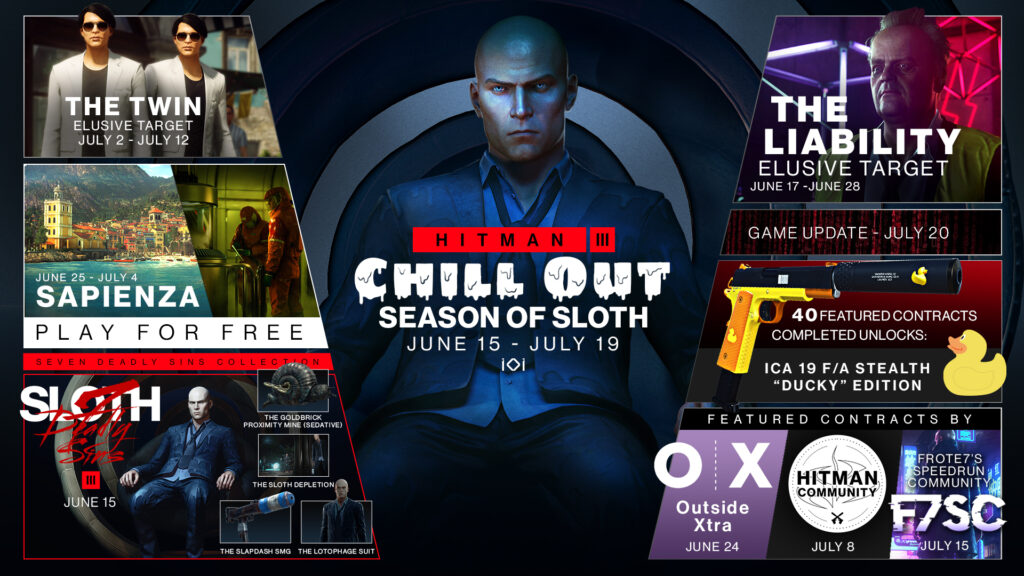 Act 3: Sloth – June 15
From the very start of the season, we have the new Sloth content. this brings a new Escalation to the table, the Sloth Depletion. In it, players must complete three levels of an Escalation in a new version of the Dartmoor map. There's also a new mechanic to master, the vitality meter. This is effectively a health bar that ticks down with every action that Agent 47 makes. The more you do, the less health you have. You must complete the levels with this intact. There are new tools to help you along the way. You can even sit down in some of the new chairs in the level to rest. Part of the mechanics here is a jogger that you can kill to restore your vitality. It's essential that you do this to complete the Escalation.
For completing the Escalation you'll unlock a new grenade, suit, and weapon. These are exclusive to the expansion, so it's worth buying just for those.
Featured Contracts Challenge – June 15
From the start of the season, it's also possible to earn a new challenge and weapon. you can pick up the ICA 19 F/A Ducky Edition by completing 40 Featured Contracts. This is a brand new challenge, something that players have been begging for. It gives everyone a good excuse to take on every Featured Contract to date, because there will be a total of 40 as of the start of the season. If you do nothing else for the entire season, just do this to get the best meme gun in the game.
The Liability Elusive Target – June 17 – June 28
Between these dates we'll have our first Elusive Target for the season. This guy is the world's worst health and safety inspector. He cuts corners everywhere, and is generally a waste of space. The Elusive Target takes place in the Berlin location. you'll need to find the target and take him out with one of the many hazards around the place. While we have no hints about how to kill him, it's almost certain that there will be a unique opportunity to kill him using some sort of accident. Keep an eye out when he's around, and make sure you kill him within the limit.
Outside Xtra Featured Contracts – June 24
From June 24 we'll have a set of new Featured Contracts from the team at Outside Xtra. These are all inspired by the theme of sloth. Expect to be lazy, or go completely the other way and take on some incredibly fast missions. It sounds like these ones will explore a few missions from Hitman 2, allowing you to explore more of the franchise. It's good to see this happening, because those locations feel underutilized in most of the content that's now coming to Hitman 3.
Sapienza Free-to-Play – June 25 – July 4
Between these dates you'll be able to play in Sapienza for free. This location is one of the best from Hitman 2016. It will also allow those who don't own all the previous games to have a chance to play before buying. There's also an Elusive Target that ties in with this free-to-play period, so it's worth having just in case you want the progress for your main game. Of all the past locations in the reboot trilogy, Sapienza is our favorite, and one we couldn't see Hitman existing without.
The Twin Elusive Target – July 2 – July 12
Between these dates we have the second Elusive Target of the season. The Twin is a very interesting legacy Elusive Target. One of these twins is the target, and the other is your client. Everyone will have the chance to play this content because Sapienza is free. You'll need to watch the briefing and learn how the target works before you can take them out safely. This is something that will definitely throw a lot of players, so being able to predict which one is which is essential. If you play nothing else for the entire season, just play this. It's going to be a lot of fun.
Hitman Community Featured Contracts – July 8
This is the second slew of Featured Contracts coming to Hitman 3. They're actually from the player base, so they've been built by dedicated players instead of content creators. This is a shift Io Interactive is making because they realize that players are the people making the best contracts. If content creators are only playing the game for hype, then they're not making the best possible contracts for anyone.
Hitman Speedrun Community Featured Contracts – July 15
Interestingly, these ones will be from a speedrunning community, so they're going to be the opposite of slow. It's still quite fitting for the overall theme though. They're going to push you to your absolute limit and beyond. These are what the high-level Hitman 3 players are after, and they can be incredibly challenging. Watching this sort of stuff play out is fascinating and brutal. We could never make something this precise, but we're willing to try completing them towards the end of the season.
Game Update – July 20
The end of the season comes with a huge update for Hitman 3. This is going to be an update that fixes most of the issues found within the game over the course of the season, If you report an issue, it'll most likely be fixed at this point. As for those larger issues, they'll possibly take longer. It's hard to tell with this type of seasonal update system.