Rosie is a peppy blue cat Villager who has appeared in every single Animal Crossing release. Including the anime that most fans probably haven't seen. She's so well known that she's often used in marketing material for the games. Most fans have a sweet spot for her because she's been one of their favorite Villagers. In this Animal Crossing: New Horizons Rosie Villager Guide, we'll cover everything there is to know about Rose. We'll also throw in some facts that you might not have known, and go deep into the type of Villager she is so you know what you've got on your island.
Who is Rosie?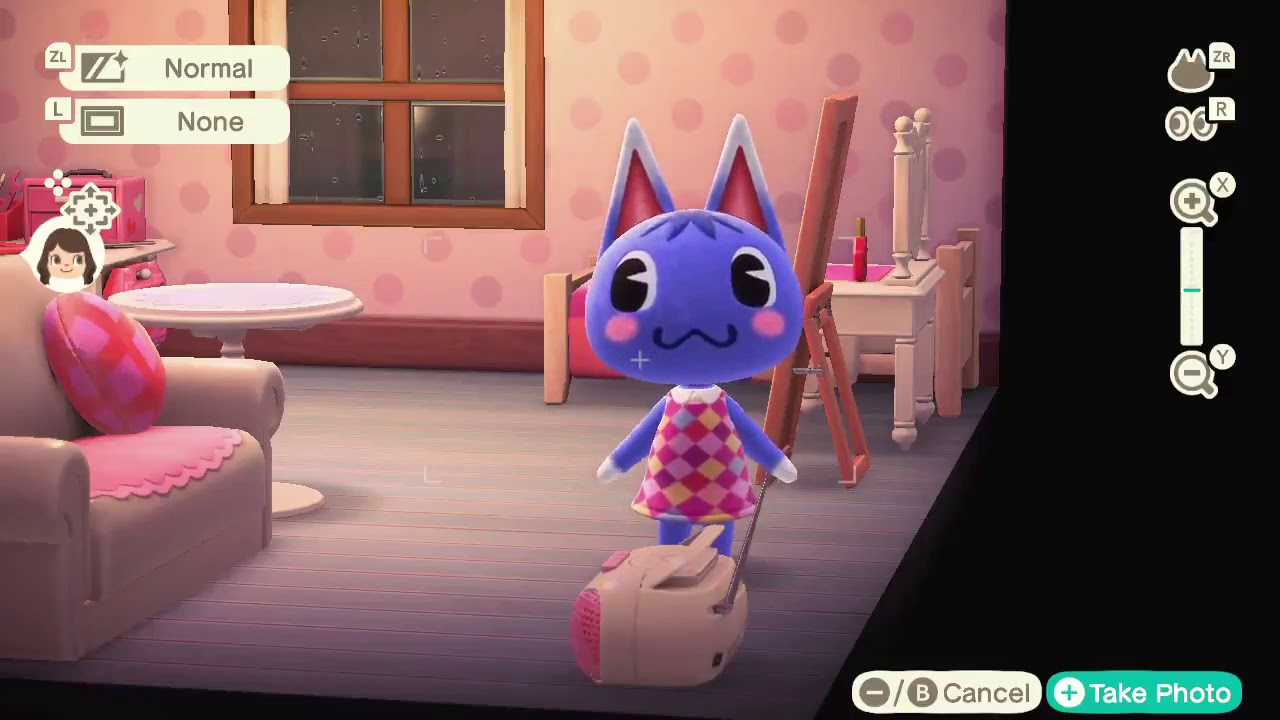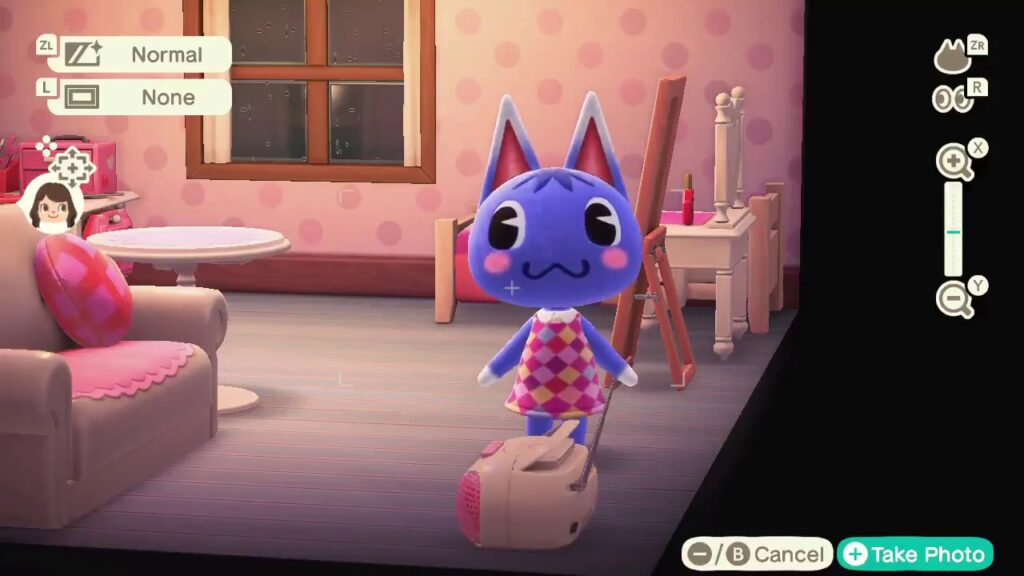 As we've already mentioned, Rose is a blue cat Villager. She's been in every release of Animal Crossing, and is a firm favorite among fans. She's got the peppy personality type, so she's fun, exciting, and very easy to get on with. She's also incredibly hospitable, particularly towards players. She initially tells you how one good turn deserves another, and that's what her entire personality is about. It sets her up as the pleasant Villager that you'll soon come to know and love. Her hobby is music, and since she's peppy, she'll spend a lot of time perfecting it.
Birthday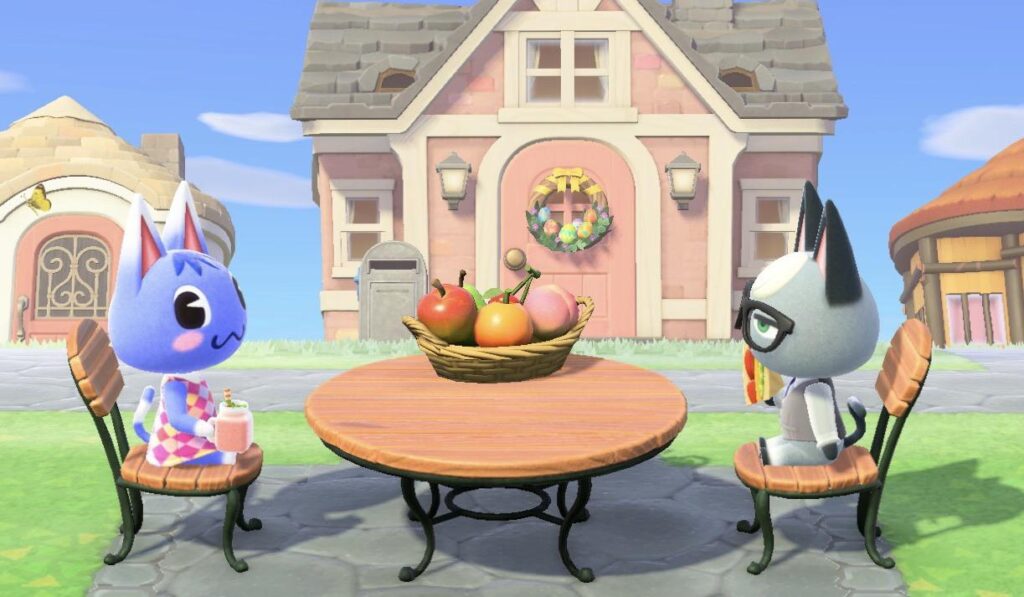 Rosie's birthday is on February 27. As such, she just about gets a birthday every year. If her birthday were one day later, she might miss out on getting one every couple of years or so. This is likely a deliberate move from the developers. They don't want to implement a Villager who will cause the game to crash because their birthday falls on a day that does't exist during certain years.
On her birthday, Rose will be hanging out in her home. Other Villagers will come to celebrate with her, and she'll welcome everyone with open arms. That includes the player. You should head over to see Rose on her birthday so that you can celebrate with her. You'll get to play games, give her a present, and you'll even get some cake out of it. That cake can then be used to help you later on your island. It'll make you incredibly strong when it comes to building.
Rosie's Personality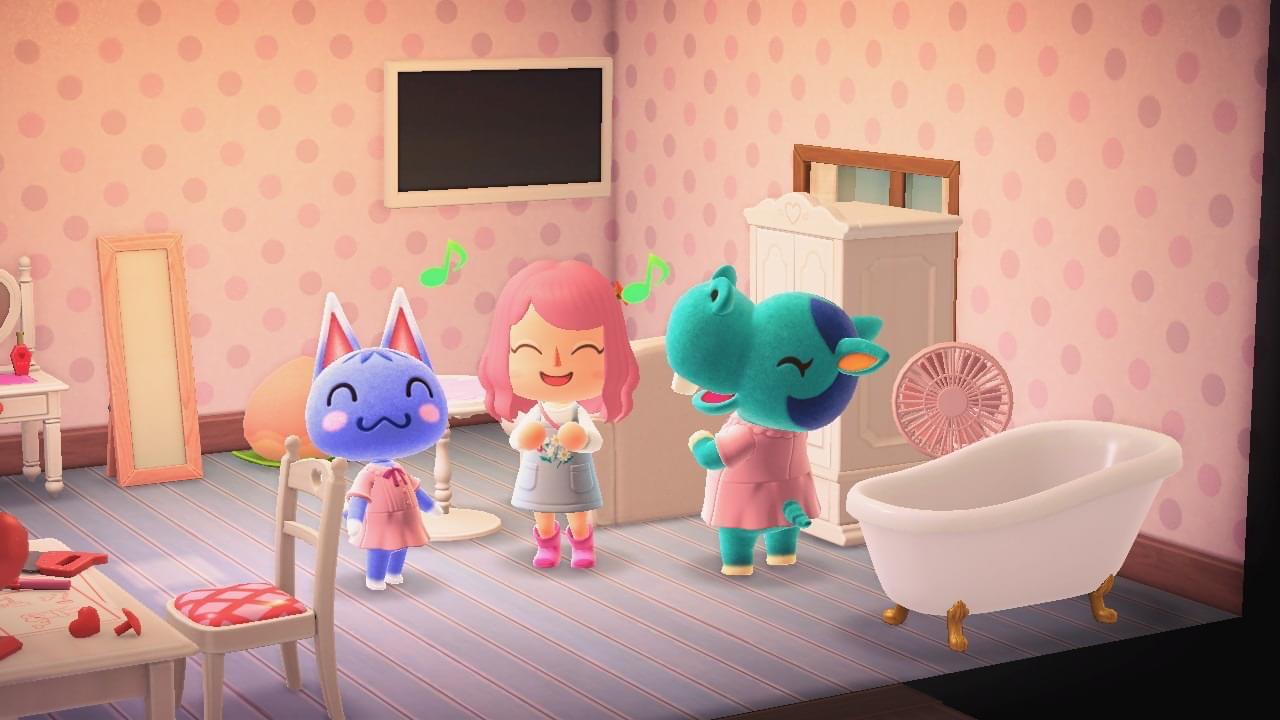 Rosie has the peppy personality type. Luckily, this is one of the best personality types in the game. Peppy Villagers are always in a good mood, and they're always happy to see you. Since she's peppy, Rosie will overreact in pretty much all situations. You can see this most when talking to her. She'll react in such an over-the-top way that you might think that there's something wrong with her.
Peppy Villagers are never discouraged, so they just get on with whatever they're doing. When it comes to their hobbies, they're even more determined, and Rosie is no different. There's no coming between her and her music. The ultimate goal of every peppy Villager is to become famous and get onto the cover of Ms. Nentique magazine. Players never see this magazine, but all peppy Villagers reference it.
If you annoy Rosie, don't worry about it too much. Peppy Villagers have an incredibly short attention span. They'll forget what you've said and what they've been doing within minutes. That's why it's fine to leave their quests and not complete them. Half the time they will simply greet you as if nothing has happened, even if other Villagers would have been really mad.
Peppy Villagers tend to get on well with almost everyone, including normal, lazy, jock, peppy, and sisterly personalities. Cranky and snooty Villagers may be upset by her. This is because their personalities are so different, and they can't handle what Rosie is doing.
Rosie's Appearance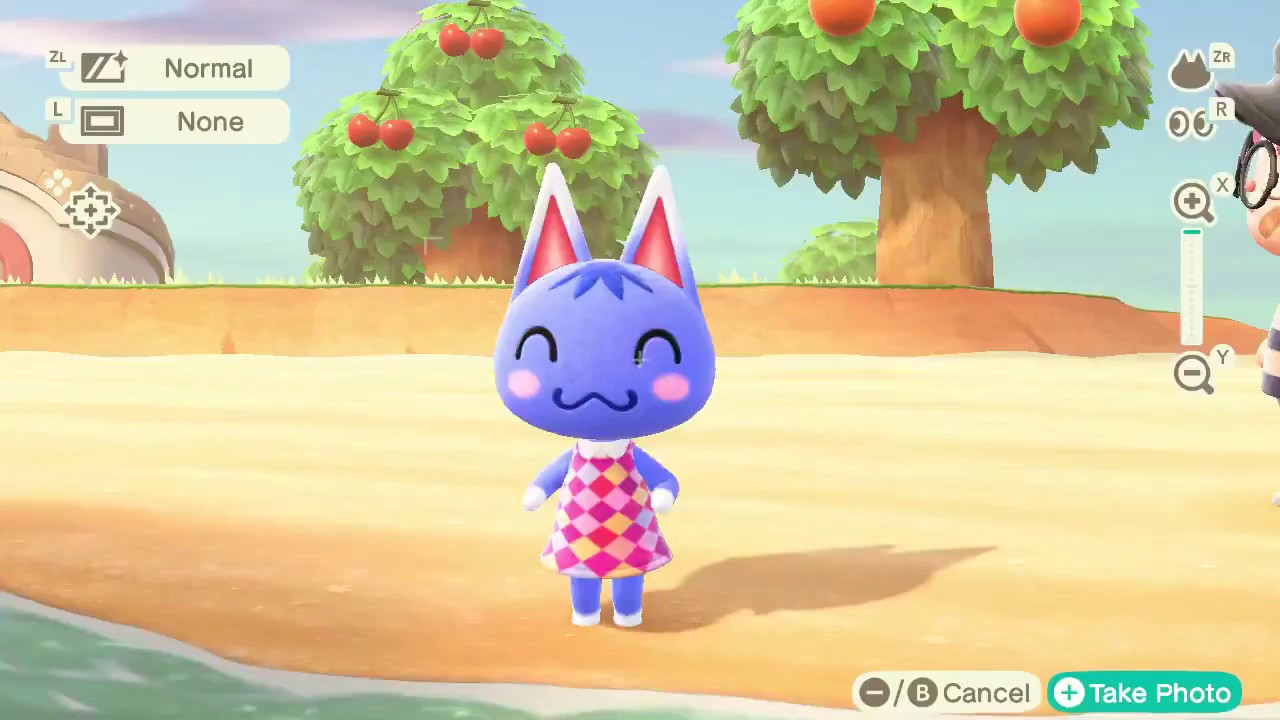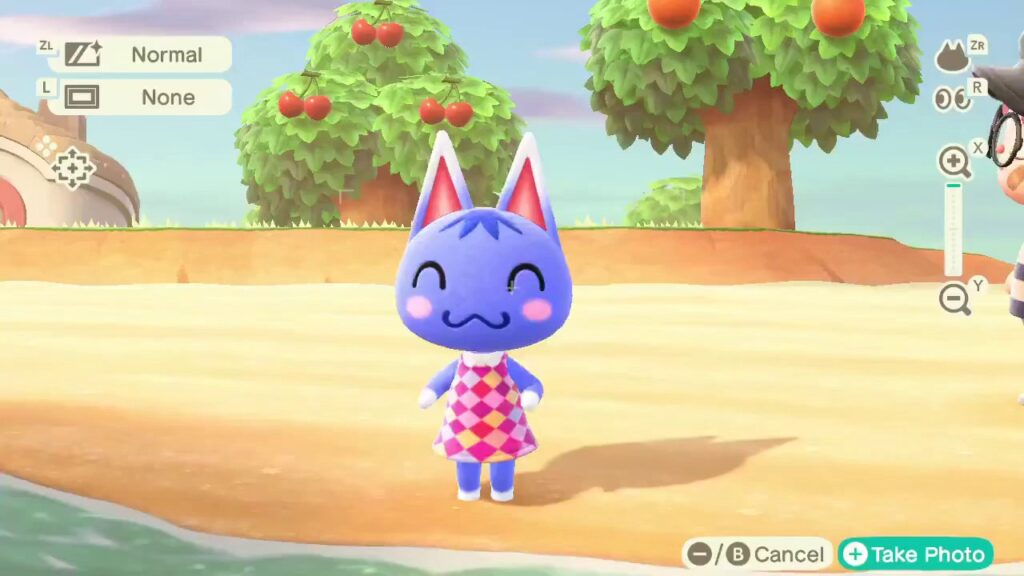 You can't have missed what makes Rosie so special compared to all other cat Villagers. Apart from being peppy and wonderful, she's blue. The specific blue that she has on her fur is Iris Blue, a beautiful shade that fits her personality just right. While she has darker hair on her head, and rosy cheeks, the rest of her is the same color. She likes to wear pretty frilly dresses that make her look like she's effortlessly prettying up everywhere she goes. Her dresses mostly have collars, which resemble playsuits or other popular pieces of clothing worn by younger women. This indicates that Rosie is a younger Villager, but she's so full of life that she could be any age.
Rosie's House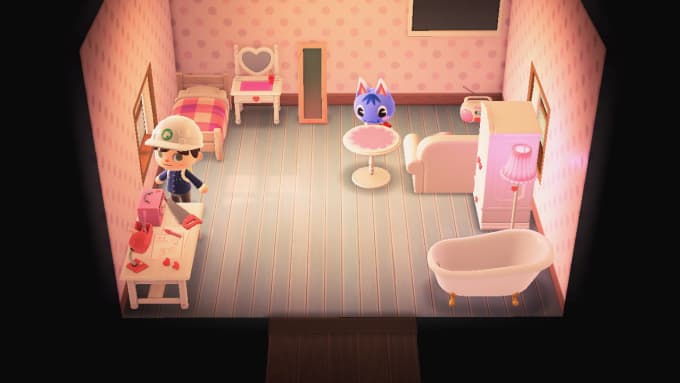 The exterior of Rosie's House in New Horizons is bland yet pretty. It's various shades of off-white, making it look lovely in a way that doesn't stand out on the horizon. It's an understated look that more Villagers should go for. If you want to create a neat little row of homes that aren't obnoxious colors, this one definitely has to make the list.
Inside, things turn pretty and pink. The only blue is Rosie herself when she's pottering around in there. The flooring is a darker grey wood, but every piece of furniture, and even the wallpaper, is pink. She has a check bedspread on her bead, a pink lamp, sofa, and radio, and the rest of her furniture is white. Given the amount of pink in the house though, everything that's white simply blends in and looks like it's the same color.
Facts About Rosie
Some interesting facts about Rosie include the fact that she appeared as a sicker in Super Smash Bros. Brawl. These are collectible items that players unlocked through earning them or purchasing them in-game with currency earned from playing.
In the 2010 version of Monopoly, themed around Animal Crossing, Rosie appears alongside the other well-known faces of the series, Tom Nook and K.K. Slider.
At the start of the trailer for Super Smash Bros. for Nintendo 3DS ad Wii U, Rose appears to be talking to Isabelle.
In Mario Kart 8's Animal Crossing race course, Rosie makes an appearance that layers can see as they drive past.
Finally, Rosie happens to appear on the box art for two other Animal Crossing games. These are City Folk and Happy Home Designer.