Ubisoft has officially revealed the Ghost Recon: Breakpoint roadmap 2021. This contains all of the content coming to the game over the course of the year. The team behind the game previously confirmed that they would be making new content for 2021, but it's not until now that we've had some actual details. In this guide, we will cover all of the information that we have on 2021's content.
We'll also be speculating as to what certain updates or events might be, as well as when they might arrive in the game. Before we start, it's important to note that the content is thin while there is a roadmap. There are really only three items on it, so don't expect too much this year.
The fact that the game's being supported at all seems to be an achievement. Many Ghost Recon fans don't like the game, so support seems to be so small. Especially compared to that seen in Ghost Recon: Wildlands.
Ghost Recon: Breakpoint Roadmap 2021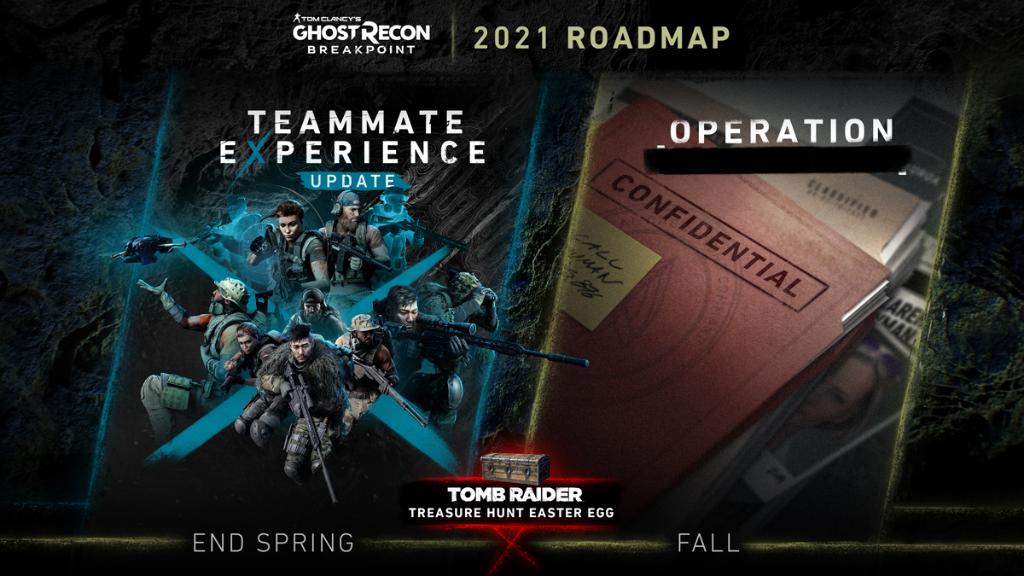 The roadmap consists of two major updates and one event. Next, we're going to explore these each in rough order of release.
End of Spring – Teammate Experience Update
This first update appears to be coming quite soon. It's scheduled for the end of spring. Summer will start around June time, so there's really only a couple of months left at the time of writing until we get this update. This particular update is called Title Update 4.0.0. It's focused on the AI teammates you have in Ghost Recon: Breakpoint.
When these guys were first added, it totally changed the game. Suddenly, you didn't need to have other real-world people controlling characters in your game to make it fun.
However, these AI teammates weren't exactly realistic. They've still got a lot of issues, and you need to suspend your beliefs if you're using them. With that said, they do make exploring the game world a lot more enjoyable and less lonely.
The first big part of this update is focused on improving the AI behind these teammates. Hopefully, this means that they'll be smarter and act like real soldiers. There's nothing worse than seeing them hide in front of an enemy, and the game registers nothing until you command them to kill that enemy.
What we expect to see is better stealth, better driving, and just an overall improved experience when using AI teammates. Ubisoft has added that the update will also introduce an experience system that works alongside the AI teammates.
From the sounds of it, the more you use them, the more abilities you'll unlock for them. These can be equipped to use in the field. With nothing but the basic soldiers, they're pretty good. With added abilities though, these soldiers should be far beyond anything we've ever seen in the game.
Side Effect
One side effect of this improvement could be that enemies become smarter as well. This is a game based on balance, and if players become too powerful, there's no fun to be had. Ubisoft will need to toe this line carefully if they want to release an update that's worthy of the lofty expectations players have for it.
Fall – New Operation
The second big update for the game is called Title Update 4.1.0. Its main focus is to add an entirely new Operation to the game.
These are big expansions that make it possible to play a series of missions, as well as some new daily missions in the game. This is arguably the more exciting update of the two. It's also being touted as the largest Operation the game has seen yet.
This means that it will cover more of Auroa, add more missions, and probably add more weapons and armor to the game too. For those who have been looking for more content to chase, this is is the expansion to watch out for.
While there are no details as to what this Operation will be about, we think it will be focused on drones once again. This is probably the swan song for Ghost Recon: Breakpoint.
It will be a final huge expansion that preps players for the next entry in the universe. With the rest of the year to go, including E3 2021, it's not hard to think that Ubisoft will soon reveal the next Ghost Recon game.
We believe that this expansion will look at drones, and the island of Auroa, once more because of it being the last one. It's also a great way to increase the player base before a new game in the series comes out.
Finally, there are unanswered questions in this game. Someone needs to solve the mysteries and put our minds at ease. A new NPC in this expansion would work wonders.
Tomb Raider Treasure Hunt Easter Egg
The first Tomb Raider game launched in October 1996. As a result, this year marks the franchise's 25th anniversary, and that's what this Tomb Raider Treasure Hunt Easter Egg will revolve around.
At least, that's what we think. It would make sense for the event to line up with the original game's release, particularly for such a big anniversary.
As for the content, it's probably going to be pretty light. With a name like this, we think it'll add a series of treasure chests to find across Auroa.
While that could be it, it would be nice if Lara Croft herself washed up on the island or something like that. Then, players could work with her to recover all of the loot lost to the island. If you think about it, drones could have destroyed her ship, which is how she ended up here.
Then, the event can end with the Operation expansion, when all the Ghosts finally get to go home. This is a big stretch, but we think it's the most likely outcome with so few details. On the other hand, it could add a new island for players to explore, one with tombs that need raiding by Ghosts for a mysterious contact.