Mount and Blade II: Bannerlord released on PC to an anxious fan base and was overall well received by the gamers who had been waiting almost a decade for the game since it's was teased and leaked way back when. Released on March 30th, 2020 for PC gamers and with an unannounced release date for consoles, Bannerlord has the capability to be cross-platform and bring these gamers together. Here is everything we know so far about whether or not Bannerlord will be cross-platform.
Will Bannerlord Have Cross-platform Capabilities?
Mount and Blade is an iconic PC game series that is just now possibly being brought to console. With an already devoted fan base that loves the multiplayer combat system, opening the servers to players on consoles seems like it would be a good idea. Both the Xbox and Playstation have an immense user base and Mount and Blade can always use more players, but first, the game needs to get released on these platforms before the talk of cross-platform capabilities can even be brought up.
With no word from the developers on any planned cross-platform action and not even a set release date for console, cross-platform will take a backseat in the game's future development it seems. After waiting a decade for early-access Bannerlord, one can only guess when we will see a console release as the developers have only said that it will come "…further down the road…"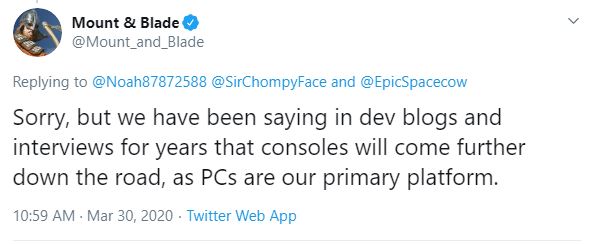 There is also the difference in controllers to consider. Will PC players have an easier time with the keyboard and mouse than console players on a controller? One platform having an advantage over another doesn't make for a good online experience. Currently, PC players are forced to manually block in online battles, will console players have to do the same? Or will the game implement the automatic blocking feature it has available in the campaign?
There are too many uncertainties right now and no clear statement from the developers on Bannerlord and it's possible future cross-platform capabilities. We will be sure to keep this updated as more information comes out about the game.
In the meantime, if you're looking for more Bannerlord content be sure to check out our guides below.