The Hitman 3 Season of Greed roadmap has finally been revealed by Io Interactive. This roadmap marks a big change for the upcoming content in the game. Before, every month had a collection of free content added to it over 30 days. Now though, the roadmaps will follow the Season of Sin. This is a new seven-part expansion for Hitman 3.
The first one, Act 1: Greed, lasts from March 30 to May 9. As you can see, the roadmap is now spread over a longer period of time. While that might be disappointing, it does allow the developer to produce better quality content. In this guide, we"ll cover everything that's coming to the game over the course of the current season.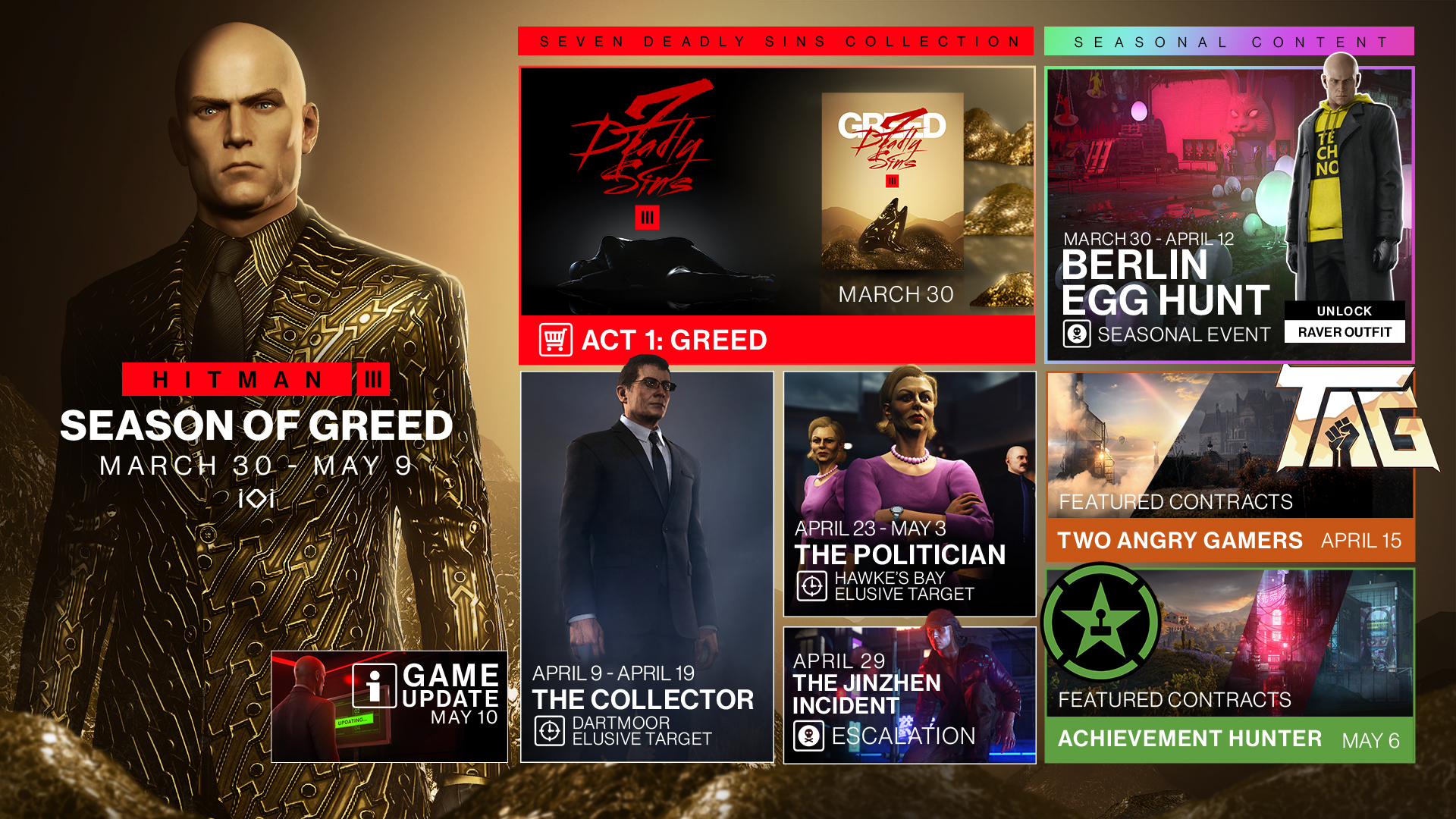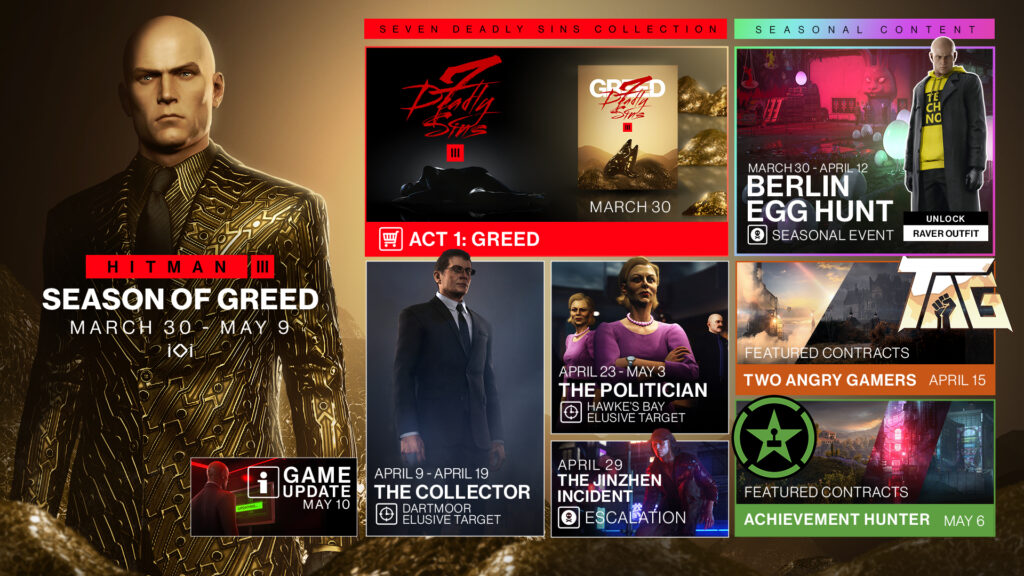 Act 1: Greed – March 30
Act 1: Greed is the first part of the Seven Deadly Sins expansion. It kicked off the current Season of Greed. You can purchase this expansion individually or as a complete season pass. With this first piece, you get a new Escalation called The Greed Enumeration.
You may also need the expansion to access all the other content coming to the game. This would be similar to how you need the Deluxe Edition of Hitman 3 to access the Deluxe Escalations.
The Berlin Egg Hunt – March 30 to April 12
The Berlin Egg Hunt is an easter seasonal event. It's a timed exclusive Escalation that will only be available until April 12.
In it, you need to complete three levels of the mission using new Easter Egg weapons around the map. These each have different effects, and will drastically change how you play. There's a nice reward on offer that makes this Escalation worth completing.
The Collector – April 9 to April 19
Between April 9 and April 19 the first Elusive Target in the Hitman 3 Season of Greed roadmap goes live. It's the first one to be set in a Hitman 3 location, Dartmoor, which is very exciting for all fans of the game.
In it, players need to track down a collector who is killing everyone that owns the items he desires. Then, he steals the things he wants from them. This Elusive Target is fiendish and requires a lot of thought, so don't go in unprepared.
Two Angry Gamers Featured Contracts – April 15
From April 15, it'll be possible to play through five brand new Featured Contracts in Hitman 3. These have been put together by the content creators known as Two Angry Gamers. The Contracts are set across the Dartmoor and Dubai locations.
This will add some much-needed replayability to these locations. Each Featured Contract is themed around greed, so it will be interesting to see how they play out. This has been the requirement for all content in this roadmap, and so far it's looking very sinful.
The Politician – April 23 to May 3
On April 23 the second Elusive Target for the season goes live. This one is a legacy mission from Hitman 2. It's set in the location of Hawke's Bay, the starting area for Hitman 2. The trick here is that the target has a body double, making it incredibly difficult to track her down.
Players will need deep map knowledge to get this one right. It's also worth having some previous knowledge from Hitman 2. If you don't already own the locations for Hitman 2, you need to pick those up first. Otherwise, you can't play this content.
The Jinzhen Incident – April 29
From April 29, another new Escalation is coming to Chongqing. This is a similar one to The Satu Mare Delirium. It looks to completely change the layout of the location. Players are then tasked with getting into the ICA Facility below the city and taking down their targets. It's another Escalation that could see Agent 47 move from one point to another and sequentially cover the map.
That's the best kind of Escalation, so our hopes are high for it. The rewards on offer, as always, seem to be a new weapon and outfit. Hopefully, there's a bit more of a reward for getting a Silent Assassin rank in the mission.
Achievement Hunter Featured Contracts – May 6
From May 6, the second set of five new Featured Contracts is coming to the game. These are all from the content creators behind Achievement Hunter. They're themed around greed, of course, and are set across Mendoza, Chongqing, and Berlin.
These ones will feature all kinds of crazy requirements. Some of them seem to be focused on a hammer, which is something that most players won't be too familiar with. As long as they all feel good to play, there's no reason that everyone won't enjoy these contracts.
Game Update – May 10
From May 10, a big game update is coming to Hitman 3. This will contain all of the bug fixes that have been created over the course of the season. The last game update coincided with three new content releases, and it all went wrong. We had to delete and re-install the game because of the issues.
The reason that nothing else is happening alongside this update is the fact that it could break the game again. Io Interactive is aware that this can't happen again, so they're taking steps to avoid it.
Seasons of Sin Act 2 – ?
Over the course of the Season of Greed, Io Interactive will eventually reveal the next Season of Sin. This will be pride, so the next part of the expansion will be called Act 2: Pride. It's hard to say which locations will be used in the next season of content. Io Interactive will almost certainly be planning it around how successful this season is.
The Elusive Targets will be themed around pride, so look through the archives for any that might pop up. There will also probably be a new seasonal event Escalation, though what this is no one can tell just yet.
Many players are disappointed that there isn't more content this season. Io Interactive needs to do a better job of filling up the weeks, otherwise, the player base simply won't stick around for the interim between content drops. We'll keep you updated with all the latest roadmaps right here so you know what's coming through.