Sherb is a rising star when it comes to Villagers. In this Animal Crossing: New Horizons Sherb Villager Guide we're going to cover everything there is to know about him, from his favourite colours, to his birthday, and even what items he'll use to decorate the interior of his house with.
Sherb isn't like Marshal or Raymond. He's not been a consistent member of the most desirable Villagers in Animal Crossing: New Horizons since the game launched. In fact, it has taken him two months or so to rise up the ranks. At the time of writing he is placed third in the Villager Popularity Chart on Animal Crossing Portal. This means that he's still worth somewhere between 15 and 20 million Bells, or a few thousand Nook Miles Tickets, but he's not quite the best Villager on the list. He's almost a prize just for taking part in an event. He's something you'll take if given, but you probably wouldn't go looking for him. At least, I wouldn't.
Who is Sherb?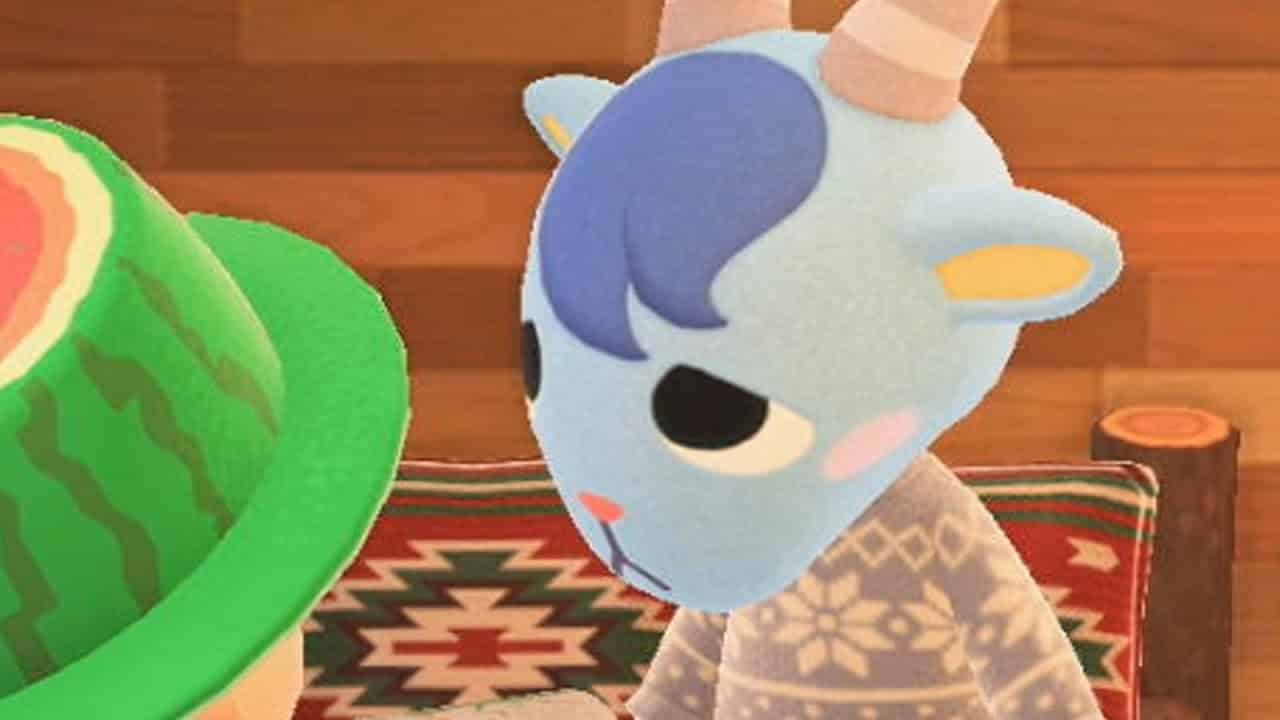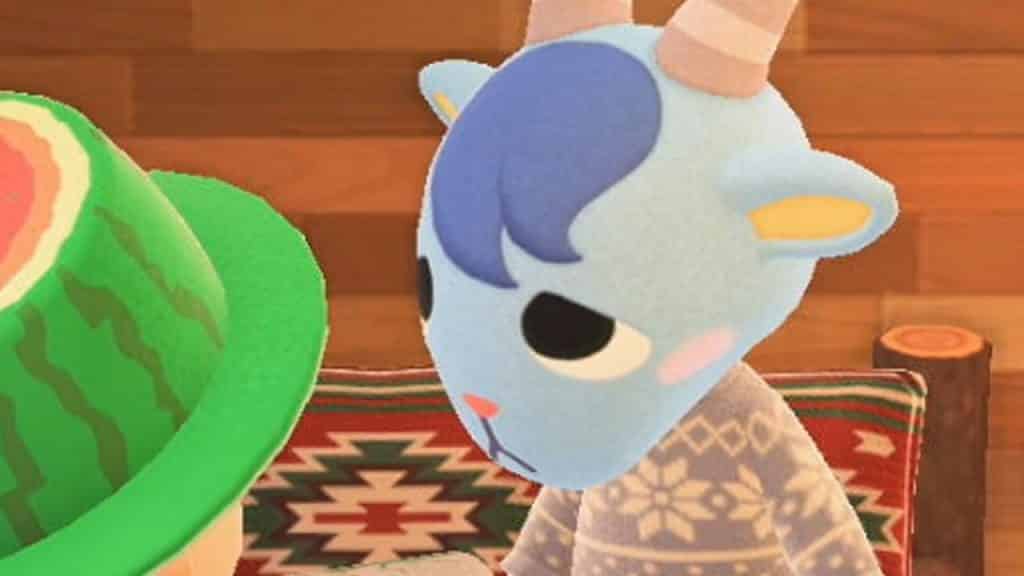 Sherb is a lazy goat Villager who was introduced with Animal Crossing: New Horizons. His name is said to be inspired by sherbet, the sweet sugar that sort of burns your tongue, but also a lovely flavour of ice cream. In Japanese his name is 'Rem', which it's thought could be a reference to REM sleep. This is backed up further by Sherb's preferred K.K. Slider song, Hypno K.K.
While Sherb is a goat, he's blue, which is pretty strange in my books. His horns are both striped white and grey, and he's got pink cheeks, as if he's been hanging out on a hill on a windy day. His eyes are nice and friendly though, so he'll never make you feel unnerved or out of place on your own island.
Part of what makes Sherb so desirable is the fact that he's another Villager that you can't pick up with an Amiibo card. This is generally what makes most Villagers in the top tier lists popular, though there are some exceptions. I think that if Sherb was available on an Amiibo card, he'd definitely be further down in the Villager Popularity lists.
Birthday
Sherb's birthday is January 18. Make sure you visit him on the day, though he'll probably be spending most of the dar indoors. He'll give you cake, and you can even catch up with him about what he's planning to do to celebrate.
Sherb's Personality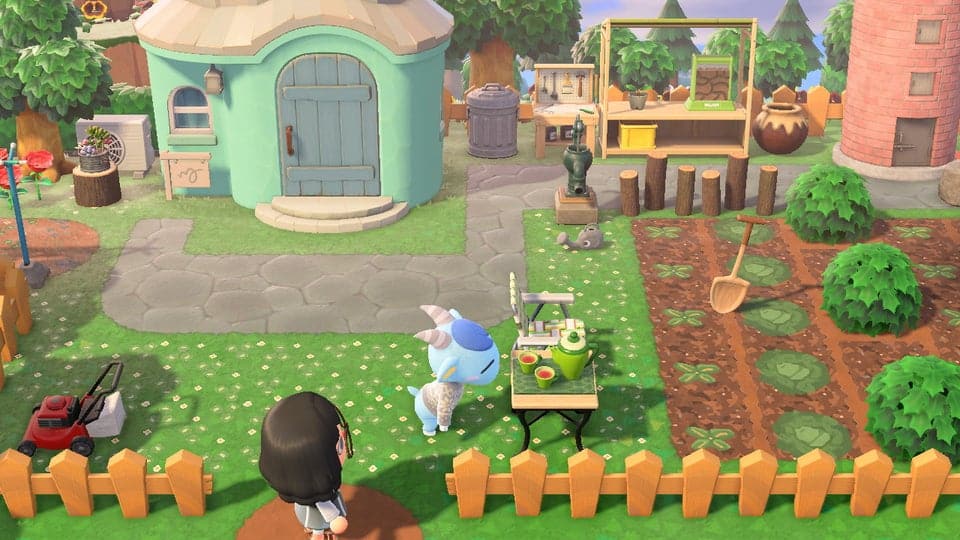 Sherb is a lazy Villager, and has the Hobby nature. Generally he'll get on with most Villagers, but he's going to confuse, and even offend, the jock Villagers on your island. He gets on really well with the smug, peppy, normal, and sisterly personality types, and will occasionally even get on with some cranky Villagers. His relaxing tends to get on the nerves of any Villagers with the snooty personality type though.
Sherb is one of the cutest Villagers you could hope to have on your island. He's an absolute joy to be around, but that's mostly because of the things he says. His personality makes him sound like that friend who is always too dozy to say anything that makes sense, but you still love them for it.
Sherb's House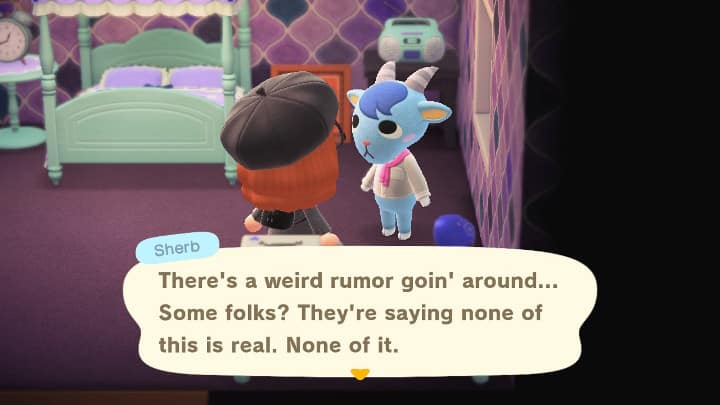 Sherb outfits his home with a number of items from the Cute Set. These items are in the Blue Sky variant, making them match his fur pretty well. He has the Cute Bed, Cute Floor Lamp, Cute Sofa, Cute Wardrobe, Cute DIY Table, and Cute Tea Table. Sherb also adds in the Old-Fashioned Alarm Clock. Finally, Sherb has a music player that is constantly playing his favourite track, Hypno K.K. and the Purple Desert Tile for wallpaper, and Simple Purple Flooring.
That's really all there is to know about Sherb. The community has picked up on one thing that he does in particular that's a bit weird though. He likes to smell other Villagers. If they smell him back, he just comments, "I just wanted to be smelled", which is extremely unnerving.
Let us know what you think of Sherb in the comments. Please also let us know about any facts that you think we've missed, and need to be added.